Credit Suite knows their customers come to them in need of financing.
After all, it's what Credit Suite is all about: Helping small business owners build their company's credit profile without having to use personal credit to keep things moving.
To help them get started on the right foot, Credit Suite has always provided an internal financing solution to their customers. With this option, clients could spread their payments out up to nine months, while being able to take advantage of Credit Suite's services right away.
But it wasn't a perfect solution — not for the customer, nor for the business.
Thankfully, a chance meeting introduced Credit Suite to Credit Key's Buy Now, Pay Later services. This led to a partnership that proved immediately successful — and that is continuing to flourish with each passing day.
About Credit Suite

Credit Suite helps startups and existing businesses get access to the financing they need by helping the business increase its Fundability™ and connecting business owners to the finance sources that will approve them.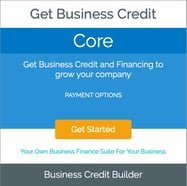 Operating in its current form since 2014, the now 80-person team has helped over 45,000 entrepreneurs and small business owners through the process of building business credit so they can secure funding, maintain operations, and focus on growth.
Credit Suite has been featured on Inc.'s 5000 list three years in a row, and in 2018 was voted by Entrepreneur as the most Entrepreneurial business in the US.
A Less-Than-Ideal, In-House Financing Solution
As things were, Credit Suite's in-house financing option worked well enough — or so it seemed.
Yes, it gave those who couldn't get approved for small business loans or credit cards an additional option to work with. And yes, it did provide a supplemental revenue stream for Credit Suite's business.
But to some degree, Credit Suite's in-house financing service may have actually been doing more harm than good to both parties.
Internally, providing this additional service was causing a number of bottlenecks.
For one, it added a layer of complexity to Credit Suite's billing and collections processes. Strategic planning and positioning of the service also took time, money, and other resources — as did providing customer service and support to help clients navigate the approval and payment processes.
"While we are very good at building business credit for our clients, banking has admittedly never been our strong suit."

-Matt Kiselstein, Head of Sales at Credit Suite
This all equated to tons of valuable resources and manpower spent on Credit Suite's side offer — when the team could have been using these resources to make ongoing improvements to their core service.
This was unwittingly short-changing Credit Suite's customers: With the team missing out on myriad opportunities to further build out their core service, they'd also potentially missed out on countless ways to better serve their audience.
It was a "darned if you do" situation for Credit Suite's team:
On the one hand, they have to provide additional financing options to their small business audience, or their prospects simply won't be able to convert. On the other hand, offering this financing option themselves was actually holding Credit Suite back from their true potential — as a service provider, and as a business.
Credit Key Takes the Reins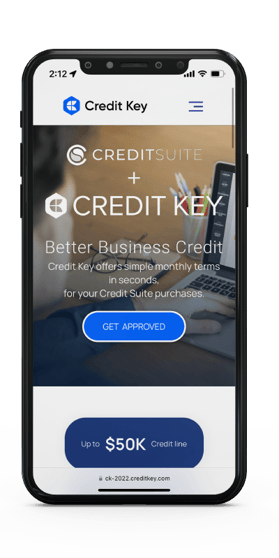 Credit Suite had known for some time that a third-part financing service would ultimately be better for their customers and their company.
Unfortunately, their search for the right provider had so far come up empty. While they'd tested out a few partnerships along the way, each failed to live up to the team's expectations in terms of service and security.
That is, until they partnered with Credit Key.
An Objectively Better Financing Option
Point for point, Credit Key's financing service is objectively more valuable to Credit Suite's customers than the team's previous offerings (including their own in-house service).
For one, Credit Key offers a seamless application process, along with instant credit decisions at point-of-sale. This means less downtime for Credit Suite's small business customers, who are typically looking to start building their business credit as soon as they possibly can.
Credit Key's terms are also much more agreeable for the small, cash-strapped businesses that often come to Credit Suite for assistance. While Credit Suite had previously extended terms out to nine months, Credit Key allows borrowers to spread payments out up to 12 months with rates starting at 1% per month.
Taking a Load Off
Internally, partnering with Credit Key has taken a ton of responsibility off of Credit Suite's plate.
As the team phases out their in-house financing service, they've freed up more and more resources to then reinvest into their core operations. This has led the team to become more productive, overall — and has allowed them to focus more heavily on enhancing the main services they provide their customers.
"Credit Suite's partnership with Credit Key has allowed us to stay focused on our area of expertise, building business credit for entrepreneurs."
An Integrated Approach
Credit Key's promotional materials also help Credit Suite promote the new financing service not just as a point-of-sale, but throughout their prospects' path to purchase.
This has proven especially effective in attracting and converting those who otherwise can't get the funding needed to work with Credit Suite. In promoting Credit Key more universally, Credit Suite continuously eases their prospects' financial concerns — which ultimately makes them more likely to become paying customers.
"Weaving Credit Key's message into our messaging is golden."

-Matt Kiselstein, Head of Sales at Credit Suite
More Sales, Delightful Experiences, and Increased Productivity
Credit Key immediately played a major impact on Credit Suite and their customers.
Most importantly, Credit Suite attributes their recent 14% increase in conversion ratio directly to their partnership with Credit Key. As Kiselstein reminds us, the added bonus for Credit Suite is that additional revenue becomes available immediately to the business — which, of course, was not the case when extending in-house financing to their customers. Credit Suite's customers appreciate the introduction of Credit Key to their overall experience with the company, too. While the actual process is seamless and straightforward as it is, the information provided along their path to purchase makes it that much easier to convert using Credit Key.
Only Just Getting Started
Credit Suite plans to continue leveraging Credit Key's promotional materials throughout the sales process. This will help keep the financing service top-of-mind for Credit Suite's prospects — especially in cases where funding is an issue.
In deepening their relationship with Credit Key, Credit Suite will continue to find new ways to help their clients build a solid financial foundation for their growing businesses.
---
For the better half of a decade, Matthew has been submerged in the B2B Payments and Accounts Receivable as a Service space. As the Marketing Director of Credit Key, Matthew has an in-depth knowledge of sales and demand generation growth strategies.
View All Articles
Topics from this blog: Case Studies