A Streamlined Financing Solution for WebstaurantStore's Customers
Offering buyer-friendly, flexible payment terms is essential for converting new customers and driving loyalty.
That's the lesson WebstaurantStore recently learned upon partnering with Credit Key.
The financing services WebstaurantStore had offered in the past had actually failed to live up to customer expectations. This didn't bode too well for the online food service distributor.
After introducing Credit Key, though, WebstaurantStore immediately uncovered numerous opportunities to sell more to — and deliver more value to — their individual and business customers alike.
About WebstaurantStore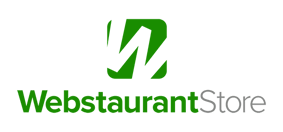 WebstaurantStore is the largest online restaurant supply store in the world, serving millions of business professionals and individual customers globally.
Since 2004, WebstaurantStore has been the leader in wholesale and commercial sales, expanding their product catalog to include healthcare, educational, office, food & beverage, and industrial supplies. Their ever-growing catalog allows the team to serve a wide variety of customers, from established eateries and organizations to small catering businesses and ghost kitchens — and even individual enthusiasts seeking high-performance kitchen equipment.
The Need for a Streamlined Financing Option
It wasn't uncommon for WebstaurantStore's customers to have financed a purchase made from the online supplier — or, at least, have tried to.
The fact is, many smaller businesses and individual customers can't afford to wait the days or weeks it takes for traditional loans to be processed. By the time they get the cash on-hand, their operations will have already come to a screeching halt — and they'll likely need even more funding to get moving again.
"Credit Key solves a big need we had and we're thrilled with the results Credit Key has delivered so far."

-Tim Kelley, Director of Payments for WebstaurantStore
WebstaurantStore knew they had to begin offering more buyer-friendly financing options that fit the needs of their small and medium business customers, as well as their individual consumers. Unfortunately, their prior options still didn't offer the speed and flexibility WebstaurantStore's business buyers were looking for. The team was also unable to find a consumer-focused Buy Now, Pay Later solution that worked for their individual customers.
So, WebstaurantStore resumed their search for the financing partner that would best serve their smaller, less cash-heavy customers and keep internal operation running smoothly.
That's when they discovered Credit Key.
Credit Key: An All-in-One Financing Solution
As luck would have it for WebstaurantStore, Credit Key had recently launched their consumer- and sole proprietor-focused Pay-in-4 financing service in November 2021. This new service was introduced to serve the needs of small and medium businesses, as well as fledgling solopreneurs who have yet to officially register their business.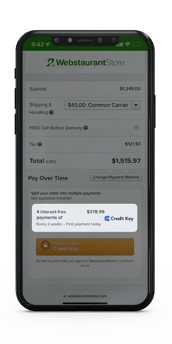 That was exactly what WebstaurantStore needed. Using Credit Key's Pay-in-4 product, solopreneurs, hobbyists and others can finance purchases directly at checkout — then pay off their bill in four installments at 0% interest. Business customers also have the option of stretching payments out up to 12 months, starting at 1% interest per month — and with no penalties for early payments - all on one platform.
Right from the start, Credit Key's Pay-in-4 product had effectively solved the problem of lengthy, resource-consuming approval processes for WebstaurantStore's individual customers. This alone made Credit Key the obvious choice for WebstaurantStore moving forward.
But there's more.
Credit Key also immediately gave WebstaurantStore's customers more buying power. On top of making them more likely to convert in the first place, the additional buying power led many buyers to make larger individual purchases instead of spreading expenses out over time.
The partnership proved even more valuable when combined with Credit Key's Buy Now, Pay Later financing service for businesses. In fact, over 23% of customers who have made an initial purchase using Credit Key's Pay-in-4 product have gone on to convert over to Credit Key's business line of credit.
Credit Key's unique ability to offer business and consumer payment options in one solution allowed WebstaurantStore to consolidate their related internal processes and drive meaningful value to their customers. This has helped the team maximize productivity, while also minimizing the risk of miscommunication and data loss.
On all points, Credit Key's all-in-one financing service proved to be the optimal solution for WebstaurantStore and their customers.
The Results: Better Than Expected — By Far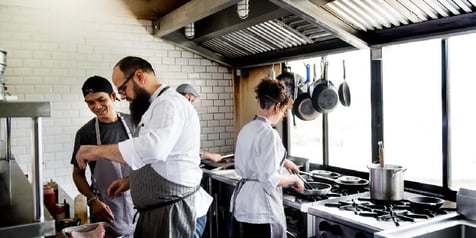 WebstaurantStore had pretty high hopes as to how Credit Key would help sales and revenues.
...but their actual results exceeded expectations across the board.
In fact, WebstaurantStore ended up reaching the most critical milestones twice as quickly as both parties had anticipated.
What's more, the average order value of WebstaurantStore customers that finance through Credit Key is an astounding 841% higher than their overall AOV. Those who substantially increase their order values once are generally more apt to make additional above-average purchases in the future, as well — increasing overall lifetime value for WebstaurantStore in the process.
So, more than just giving a quick jolt to WebstaurantStore's revenues, Credit Key has been integral in helping the team maintain an ever-growing AOV over time.
Moving forward, look for WebstaurantStore to integrate Credit Key into their overall approach to marketing and sales even further. In making Credit Key's buyer-friendly services the norm for their customers, WebstaurantStore all but guarantees their AOV and acquisition numbers will continue to skyrocket well into the future.
---
For the better half of a decade, Matthew has been submerged in the B2B Payments and Accounts Receivable as a Service space. As the Marketing Director of Credit Key, Matthew has an in-depth knowledge of sales and demand generation growth strategies.
View All Articles
Topics from this blog: Featured Case Studies