Buy Now Pay Later (BNPL) has become considerably popular since its introduction around 2011. Growing out of traditional store credit concepts, BNPL introduced a way for businesses to offer installment payment plans for online and offline purchases. BNPL has proven to be an excellent method for B2C businesses to entice shoppers into making purchases, seeing enormous growth partially fueled by the pandemic's economic fallout.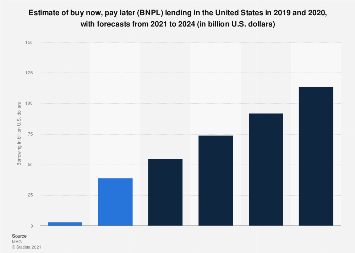 For example, BNPL grew about 29 percent YoY during 2021's holiday cybershopping season, making up about eight percent of all purchases that year. On Black Friday alone, seven percent of all global purchases were BNPL. That same year, PayPal reported that its BNPL service grew an astonishing 400% YoY. According to market research firm C+R Research, approximately 60% of consumers say they've used a BNPL service, with nearly 70% of consumers saying they use BNPL for at least half their online purchases.
Criticism of B2C BNPL
To say that BNPL is popular is an understatement. It's become a multibillion-dollar industry, which is probably why it has its fair share of detractors.
There are three main criticisms of B2C BNPL services:
They encourage consumers to overspend. Makes sense, given that about 59% of consumers say they've used it to buy "unnecessary" items they otherwise can't afford, according to the C+R Research report mentioned above.
They're expensive, particularly for missed payments: While many BNPL services don't charge interest, some do—and they're not cheap. Affirm, one of the largest players in the industry, charges anywhere from 0% - 30%, depending on the payment plan the customer chooses. Others charge late fees for missed payments as high as 25% of the original purchase value.
They persuade consumers to stack up debt. The more items a consumer buys using BNPL, the more monthly debt they have. Even if they're paying down interest-free loans, the more they use this payment method the more their paychecks go towards paying down debt.
To be sure, it is financially (and potentially economically) unsound for consumers to be spending outside of their means.
All that said, none of the criticisms of financing B2C purchases using BNPL really compares with its use in B2B industries.
Buy Now Pay Later for B2B
If you own or manage a small or mid-sized business, you undoubtedly are familiar with needing supplies that keep your business up and running. Whether it's just office coffee, napkins, or printer toner, or it's a specialized piece of equipment that lets you offer new products or services, there are material things that your business simply can't do without.
What happens, though, when your business stumbles on difficult times and cashflow isn't, well, flowing? If you've experienced this, then you know you have to make some difficult decisions about your business. Do you cut back things that might be vital to what you do? Do you reduce staff at the expense of quality?
To be sure, there are financing options such as credit cards or small business loans that can help you stay afloat. But they're not always viable. Credit card interest can get burdensome, especially if you're only making minimum payments. And banks generally are very intolerant to risk, making the business loan process often long and cumbersome.
That's where the concept of B2B BNPL services come in. Unlike when consumers use them to buy things like jewelry, shoes, etc., BNPL services often help businesses free up cash flow for things they absolutely need to stay in business.
Where B2C BNPL firms often promote unpractical spending, driving consumers into debt, B2B BNPL programs are a way for small and mid-sized businesses to finance growth.
Perhaps best of all, the best B2B BNPL companies use their own, proprietary criteria for determining a customer's creditworthiness. Where a firm might not qualify for a loan with their bank, they might be able to get financing from a BNPL. Often with better terms, too. This can be a "godsend" as one Credit Key customer put it when his firm needed to buy inventory so they could operate.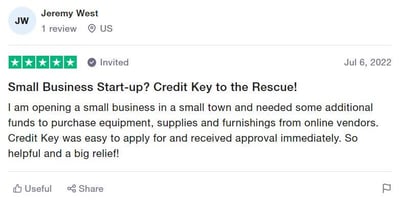 Source
What's more, B2B BNPL processes tend to be significantly faster and more efficient than bank loans. This is true on both the seller and the buyer side. B2B buyers can get through the approval process in seconds, while merchants offering BNPL get paid for their goods within 48 hours.
Ultimately, where BNPL in the B2C world gets consumers to spend money they don't have, often on products they don't need, B2B BNPL helps grow the economy by helping businesses serve their customers better.
It's really a win-win for both sides of the equation.
For the better half of a decade, Matthew has been submerged in the B2B Payments and Accounts Receivable as a Service space. As the Marketing Director of Credit Key, Matthew has an in-depth knowledge of sales and demand generation growth strategies.
View All Articles
Topics from this blog: E-commerce