Existing credit solutions fall short of buyer expectations. Trade credit is slow with low approval rates. Credit cards lack flexibility, offer low credit lines, and have high-interest rates. Traditional financing requires an onerous application process that frequently results in low approvals and high-interest rates.
There's a better way.
With B2B Buy Now, Pay Later, customers are able to quickly and easily apply for a business line of credit, receive an instant decision*, and make purchases on the spot while paying for them on the timeline they choose.
Merchants who offer instant access to capital with flexible payment options report:
More conversions
Higher average order value
Increased customer satisfaction and loyalty
And ultimately, more revenue.
To drive these results across everywhere your customers shop, you'll need to take an omnichannel approach — offering Buy Now, Pay Later to your customers across all sales channels.
eCommerce
You have customers on your website who have items they need to purchase, but once they get to the shopping cart, they realize they can't afford to pay for it all at once. They lose out on what they need and you lose out on the sale.
What if they had the financing they needed to complete their purchase right at check out — with the click of a button?
Offering flexible payment options for eCommerce purchases boosts conversion rates, decreases cart abandonment, and increases revenue.
Credit Key enables you to offer your customers seamless, hassle-free payment flexibility at checkout. With fast, seamless integration with all major E-commerce platforms and API access for others, it's as easy for you as it is for your customers.
How it works
Your customers see us as a payment method at check-out where they fill out a quick, easy application without ever leaving their cart. They'll receive an instant credit decision, view payment options, and choose how they want to pay. Customers complete their first order in minutes and subsequent orders are even faster. As soon as the order ships, you will be paid in full and we handle all of the risk and collections.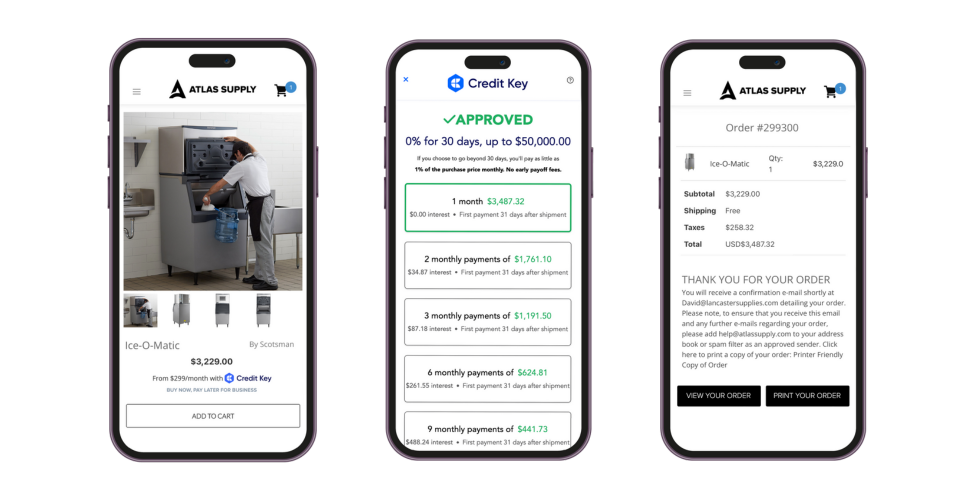 Sales
Sales reps frequently face long in-house terms approval processes and lengthy paperwork, taking time away that could be spent selling while creating an unpleasant customer experience—causing them to lose out on deals.
Offering instant access to capital with flexible payment terms can save the sale, driving higher order sizes, quicker sales cycles, and more revenue.
Credit Key can provide your customers with flexible payment terms in just minutes. Instantly create and send orders to pay over time to boost conversions and earn repeat business faster than ever.
How it works
Your salesperson invites the customer to apply by creating an order in the Credit Key merchant portal. The customer fills out the quick application to receive an instant credit decision and selects their terms. It's as easy as that!
In-store
Empower your customers to buy what they need at the point of sale with in-store Buy Now, Pay Later. With more purchasing power, your customers can get what they need on the spot without a second thought — increasing your average order value and revenue.
Offering payment flexibility in your retail locations is a breeze, with no IT resources required. Customers receive an instant credit decision and once approved**, new purchases are as fast in person as they are online.
How it works
You have options for leveraging Credit Key in-store. Customers love our zero-integration option for an easy, fast setup. You can also choose to integrate Credit Key into your existing POS solution.
Zero Integration
No IT resources required — saving you time and resources for even faster time to value.
Customers apply for a line of credit via a custom QR code on in-store signage or can be pre-approved before arriving. Upon approval, they instantly receive a virtual card on their phone which they use to pay at checkout, just as they would a traditional credit card.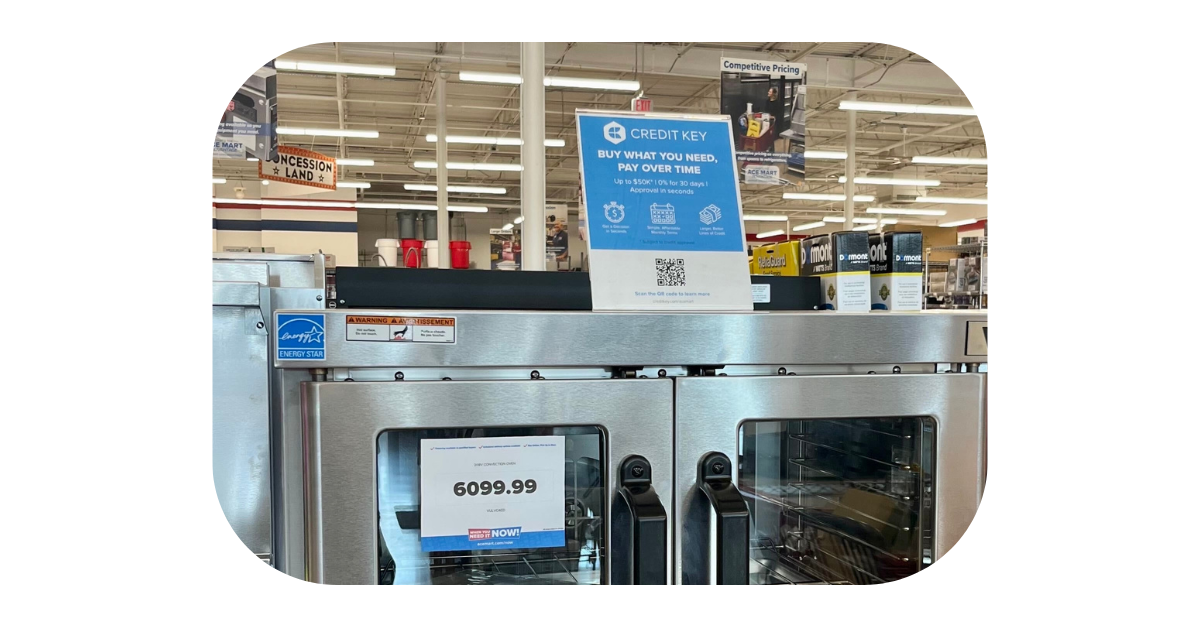 POS Integration
Credit Key can integrate with your existing POS platform to provide a seamless experience for your sales reps and the customer. Both enjoy an effortless, streamlined process without any paperwork or excessive data entry.
Customers apply for a line of credit via a custom QR code on in-store signage or can be pre-approved before arriving. Sales reps choose Credit Key as the payment method at the checkout counter where the order is placed onto the customer's Credit Key account in seconds.
Net 30
While extending terms is crucial to your success, it's not your core business. Approvals, underwriting, and risk management divert time and resources from your priorities.
That's where we come in—enabling you to digitize and streamline your application and approval process while delivering instant credit decisions. Say goodbye to the long, arduous process of getting your customers approved for terms.
You need a reliable cash flow to grow your business. But until now, you've had to wait weeks for customers to pay invoices. With Credit Key, you can offer Net 30 terms to your customers—and we'll pay you within 48 hours. And with cash on hand after each sale, you can reinvest in inventory, sell to more customers, and scale your business more quickly.
Optimize your credit program to spend more time focused on your key strategic accounts
Mitigate the risk of fraudulent customers and no longer worry about collections
Offer customers a fast, easy process for getting approved for terms without lengthy paperwork
How it works
Customers fill out a simple, online application. ‍They receive an instant credit decision and can begin making purchases right away in their preferred channel: online, in-store, or over the phone. ‍You get paid within 48 hours while Credit Key handles all of the risk and collections.
Learn more
Customers buy more when they have instant access to capital and flexible payment options. Increase conversions and simplify the B2B purchase process by enabling your customers to buy now and pay over time for business purchases in all of the channels they shop in. Interested in learning more? Request a demo to speak to our team.
*Instant credit decision not guaranteed.
**Subject to credit approval.
Sarah is responsible for driving Credit Key's marketing strategy focusing on ABM and demand generation via paid media, SEO, sales enablement, events, and more.
View All Articles
Topics from this blog: B2B Payments E-commerce B2B Sales