Throughout the B2B world, the shift toward eCommerce is in full effect — and many companies are cashing in huge.
While adoption had been steadily increasing pre-pandemic, the global shutdown sped things along quite a bit. In fact, 62% of B2B vendors say their eCommerce sales grew by 25% during the first year of the shutdown.
With this shift toward eCommerce comes an increased focus on payment options and methods.
(After all, you can't make sales if you can't process transactions…right?)
That said, we're going to take a look at eight of the most common B2B payment methods used in the eCommerce world today. As we go, we'll discuss the pros and cons of each in turn.
Our goal:
To help you determine which B2B payment options are best for your audience, and your business.
Let's dive in.
1. Trade Credit / Net Terms
Trade credit is a staple of the B2B world — with 52% of vendors offering some form of net terms to their customers.
Trade credit is just that: A line of credit offered to buyers by the B2B vendor. Typically, trade credit is offered in 30-, 60-, or 90-day terms. This means buyers will have up to 90 days to pay off their balance in full.
While many B2B vendors offer trade credit independently, others outsource the process to credit management companies to save time and to mitigate risk. That said, most underwriters will only partner with established companies whose clients are in good financial standing as a way to mitigate risk on their end.
(Especially considering the continued impact and uncertainty the pandemic is bringing to the B2B world.)
Pros of Offering Trade Credit / Net Terms
Gives your customers more buying power — which can potentially influence purchasing decisions, purchase frequency, and average order value

Allows you to offer credit terms based on the individual customer — and tailored to their individual needs.

If using a third party, can extend credit to your customers while minimizing and/or removing risk on your end.
Cons of Offering Trade Credit / Net Terms
Offering lines of credit stifles cash flow, which can hinder growth — and potentially put your business at risk should disaster strike.

There are a number of costs associated with offering trade credit in-house (e.g., staffing, software, credit insurance, and potential legal battles).

Using a third-party crediting company gives you little control over account approval and the customer experience.



2. Credit Cards
Credit cards are another staple of the B2B eCommerce world (and the eCommerce world, as a whole).
As things stand, a full 95% of B2B companies allow their customers to pay via credit card. And roughly half of all B2B buyers use credit cards for business purchases.
Below: What payment methods do you offer to your business customers?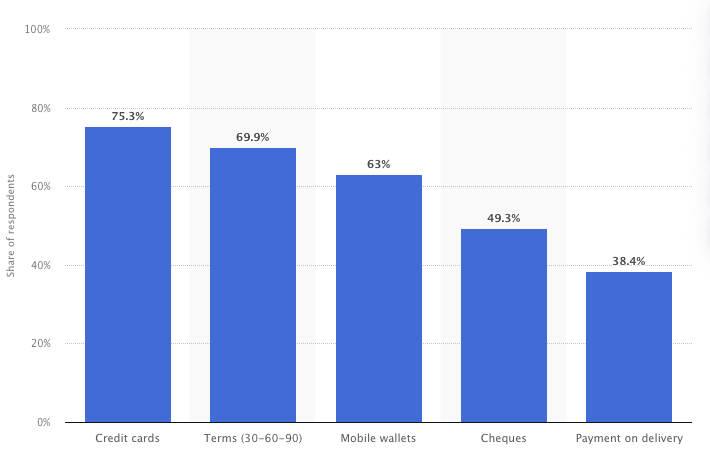 Source
Pros of Accepting Credit Cards
Quick and easy transactions make for a frictionless experience for your customers, and a streamlined process on your end.

You'll typically receive payment in full from the credit card company within a few business days.

In most cases, there's little to no financial risk involved for the vendor (as long as they deliver as expected)
Cons of Accepting Credit Cards
Merchants are required to pay numerous fees per-transaction that can easily eat into profits.

Glitches with customer cards (e.g., expired card, incorrect info, etc.) can interrupt planned purchases and cause other delays.

Dealing with chargebacks can be time-consuming and risky — even if you're in the right



3. Buy Now, Pay Later
Buy Now, Pay Later (BNPL) was made popular in the B2C world by companies like Klarna, Affirm, Sezzle, and AfterPay.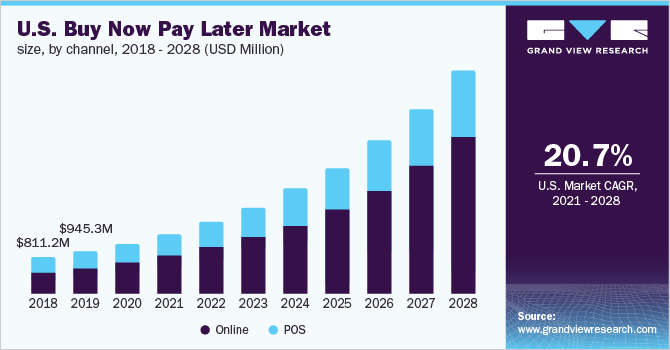 Source
Now, Credit Key is available in the B2B realm — and it's quickly becoming a preferred alternative to net terms, for both buyer and seller. This term recently, has been very popular in B2B and misleading. BNPL refers to a unique payment method outside of current B2B payment options, like net terms, trade credit, and equipment financing/leasing.
Here's how it works:
The buyer chooses the BNPL option at checkout

The BNPL service provider approves the customer for credit

The buyer finalizes the purchase on your eCommerce site

The service provider pays you in full within (x) days

Your customer pays the BNPL provider back in installments over time
Going this route, buyers will have up to 12 months to pay off their balance — a much longer period of time than the traditional net30-60-90.
Pros of Offering a Buy Now, Pay Later Option
Cons of Offering a Buy Now, Pay Later Option
As with any payment option, you need to match your customers with the preferred payment method. Here are a couple of problems that may arise if they are not matched correctly.
BNPL is commonly used by small to midsized businesses - meaning it is not commonly a fit for your large customers

While BNPL is great for large orders, it has its limitations with large capital orders that exceed $200,000. These orders are typically better suited for Equipment financing.
4. ACH Transfers
Bank-to-bank electronic transfers make up a bit more than one-third of all B2B transactions.
The process is pretty straightforward:
The customer provides their banking information at checkout, which sparks an automated process of payment authorization, approval, and transaction. Payments are deducted immediately from the customer's bank account, and deposited into the vendor's account soon after.
Pros of Accepting ACH Transfers
The automated process is convenient for both parties — making it easy for each to get what they need out of every translation made. This also means less upkeep for your team.

The cost of processing ACH payments is quite low, averaging about 29 cents per-transaction.

ACH transfers are highly secure, with human error posing relatively no risk at any stage of the process.
Cons of Accepting ACH Transfers
Some providers place limitations on the amount of money or the number of transactions you can accept per month.

ACH is only supported in the US.




5. Paper Check
Good, ol' fashioned paper checks are still offered by over 80% of B2B companies today — and are still used by 81% of B2B customers, as well.
Even in eCommerce, paper checks continue to be relevant for B2B companies. As PYMNTS suggests, we may soon see a sort of "renaissance" in this area, with third-party check processing companies emerging to help vendors handle physical checks while operating on a digital playing field.
Pros of Accepting Paper Checks
No (or very minimal) transaction fees or hidden costs for vendors.

Universal acceptance in the US.

Check numbers make for streamlined and cohesive accounting.
Cons of Accepting Paper Checks
The internal costs associated with processing paper checks can

range from $4 to $20

.

Payments can easily be delayed while in transit — which can cause major bottlenecks to your overall operations.

Paper checks are

the

most common target of fraud according to the

Association for Finance Professionals

.




6. Wire Transfer
Wire transfers are another relatively common payment option offered by B2B eCommerce companies.
Similar to ACH payments, wire transfers are processed automatically and electronically once a sale has been made. Wired payments are also transferred immediately, as well — meaning you'll likely receive payments within a span of hours rather than days.
Though not exactly conducive to the eCommerce experience, buyers can also complete wire transfers in-person in certain cases. This can potentially be a good way for companies to help their less tech-savvy customers bridge the digital divide.
Pros of Accepting Wire Transfers
Immediate transfers means better cash flow and investing power for your business.

Supports international payments, making it a key option for those looking to expand to new geographic locations.
Cons of Accepting Wire Transfers
High per-transaction fees, potentially of $20 or more.

Typically offer less security and fraud protection than ACH transfers




7. Cash on Delivery
While not exactly a popular eCommerce payment method for US-based B2B companies, cash is used quite often in India and other developing countries.
The process is self-explanatory: The buyer pays the vendor in cash, either before or after the vendor's services have been rendered.
For local small businesses, allowing cash payments can be another way to bring your non-digital customers into the world of eCommerce.
Pros of Accepting Cash On Delivery
Universal acceptance within a given jurisdiction

Secure, what-you-see-is-what-you-get payments

Digitally-lagging customers have a trusted way to do business with your company.
Cons of Accepting Cash On Delivery
Delays in payments due to travel and delivery time will hold up transactions and other processes

Doesn't scale to a larger, more widespread audience

Doesn't support international payments



8. Cryptocurrency
Truth be told, crypto-based payment options aren't exactly catching on in the B2B industry.
(Really, only about one-third of B2B companies are even considering adopting it as a payment method as of late 2021.)
That said, the future is uncertain — so you'll at least want to keep crypto on your radar in the years to come.
Pros of Accepting Cryptocurrency
Instant, automated transactions

Low to no per-transaction cost

Blockchain technology is heavily focused on security and digital accounting processes
Cons of Accepting Cash On Delivery
Volatility of crypto coins throws a huge variable into your profit margin

Potential utilization and conversion limitations

Security still a question, especially with emerging cryptocurrencies
Which B2B eCommerce Payment Methods Should You Offer Your Customers?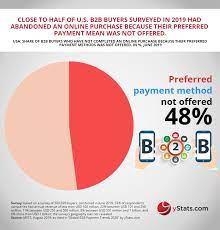 Okay, so it's pretty clear that some payment methods are more popular than others.
And, speaking rather broadly, it's probably a good idea to look first to the mainstays of B2B eCommerce — that is, ACH, paper checks, and credit cards.
But, take that with a grain of salt. The fact is, determining which payment methods to offer your B2B customers depends entirely on your circumstances.
Most importantly, you need to know which ones your customers expect you to offer — and which ones would benefit them the most. Do they need longer terms? Faster transactions? Easier processes?
(Or, perhaps, a combination of all three?)
Then, look inward. Which payment methods can your company support? How about in the future? What will adoption of a new process look like for your team?
From there, you can identify which B2B eCommerce payment methods will be easiest to implement — and that will bring the most business to your site.
For the better half of a decade, Matthew has been submerged in the B2B Payments and Accounts Receivable as a Service space. As the Marketing Director of Credit Key, Matthew has an in-depth knowledge of sales and demand generation growth strategies.
View All Articles
Topics from this blog: B2B Payments E-commerce Finance