It's standard business practice, really:
In order to sell more to more customers, you need to be where they are — and where they're looking to buy.
In the years since digital transformation has taken hold, B2B teams have typically focused on building up their ecommerce website to spread awareness and generate more sales.
To be sure, this is still the go-to route for the vast majority of B2B companies today.
However, the B2B sector as a whole has seen a massive surge in the use of marketplaces over the past few years. As Digital Commerce 360 recently reported, B2B buyers spent roughly 2.3x more on purchases via marketplace in 2021 than the previous year.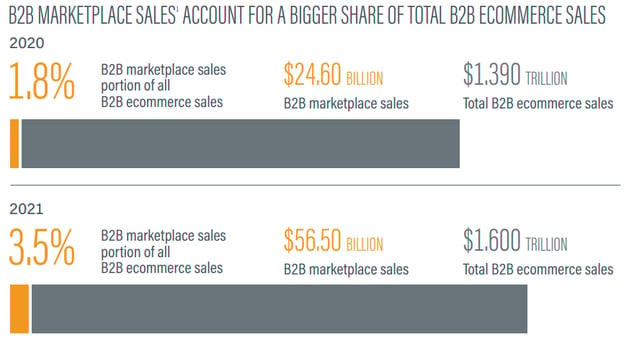 The report also estimates that nearly 7% ($1.3 billion) of all B2B revenues will be generated via marketplace by 2022's end. Again, that's another year of 2x-plus revenue for B2B marketplaces worldwide.
While the pandemic is at least partly the cause of this sudden shift, many buyers plan to continue relying on B2B marketplaces for the foreseeable future.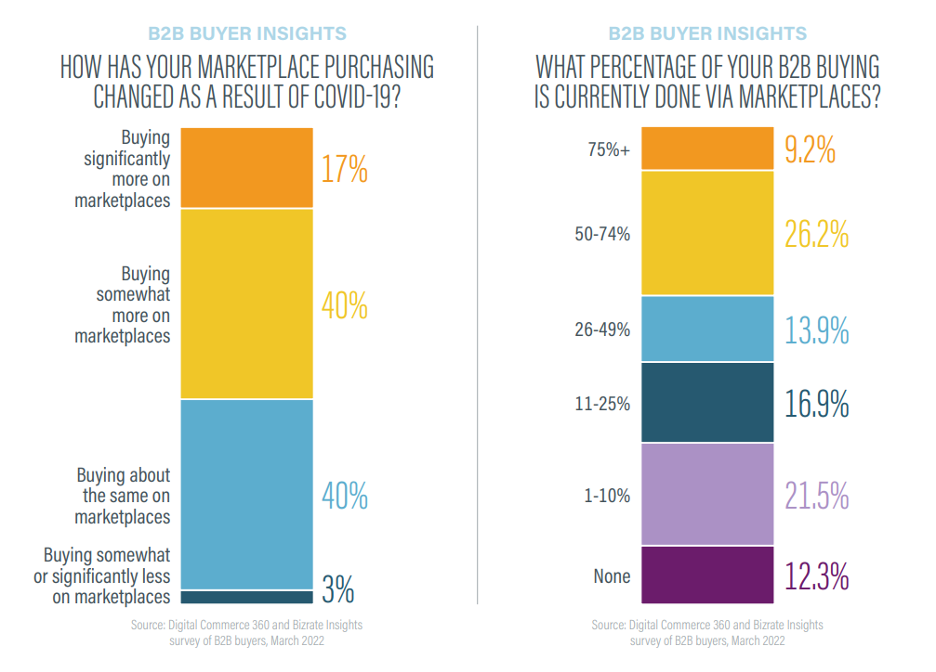 The writing is on the wall:
If you're not at least thinking about hopping on the B2B marketplace bandwagon, you're almost certainly going to be left behind in the near future.
That said, today we'll be looking at the key marketplaces B2B teams are using today to expand to new audiences and convert more customers.
What is a B2B Marketplace?
A B2B marketplace is a digital platform on which B2B companies can sell their products or services to business buyers.
(Note: While offline and hybrid marketplaces do exist, we'll be focusing mainly on digital B2B marketplaces here.)
Essentially, you can think of a B2B marketplace as a network of buyers and sellers, all looking to connect with one another for business purposes.
Different marketplaces support different types of B2B sales and exchanges. While some focus more on wholesale exchanges and heavy equipment sales, other platforms facilitate service-based exchanges (e.g., construction projects and freelance work).
We'll take a closer look at these specifics when discussing individual marketplace platforms.
For now, just know that a B2B marketplace is a digital space for buyers and sellers to do business together.
Most digital B2B marketplaces offer a combination of similar features, such as:
Optimized ecommerce interface
Customer profile and relationship management
Marketing and sales assistance
Reporting and analytics
Customer service and support
Again, how this looks for each individual marketplace varies based on the needs of their buyers and sellers.
Key B2B Marketplace Types
B2B marketplaces can be categorized in three key ways based on how they're created and managed — and who's responsible for maintaining them.
Supplier-Oriented Marketplace
Supplier-oriented marketplaces — also known as supplier directories or eDistribution — are created as a way for multiple related companies to sell their products or services to a shared audience.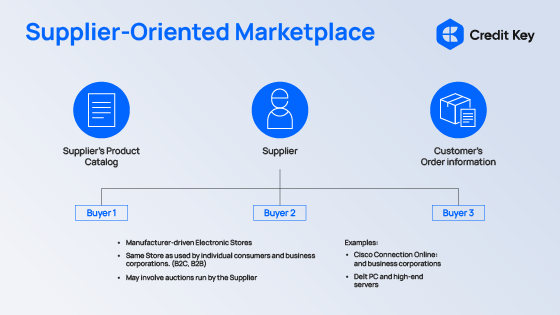 Here, multiple suppliers will band together to form a "one-stop shop" for their shared buyers looking to purchase multiple items all in a single place.
Alternatively, a conglomerate can form a marketplace on which all of their companies' products and services can be offered to their business buyers. Cisco's Connection Online is perhaps the most well-known and successful example of this.
In creating a one-stop shop for niche products, supplier-oriented marketplaces expose high-intent buyers to other, related vendors when buying for their business. This creates a scenario in which each vendor's customers can potentially become patrons of the other vendors with ease.
Buyer-Oriented Marketplace
A buyer-oriented marketplace is created by business buyers, for business buyers.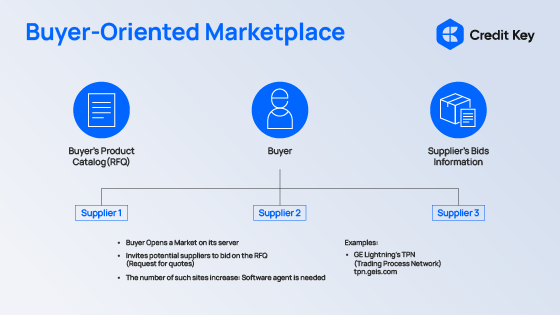 Also referred to as eProcurement, buyer-oriented marketplaces have B2B buyers list requests for quotes (RFQs) based on their needs. Vendors can then deliver proposals for different projects or initiatives, and may sometimes bid against other vendors directly within the marketplace.
Upwork and other freelance-focused services are prime examples of buyer-oriented marketplaces.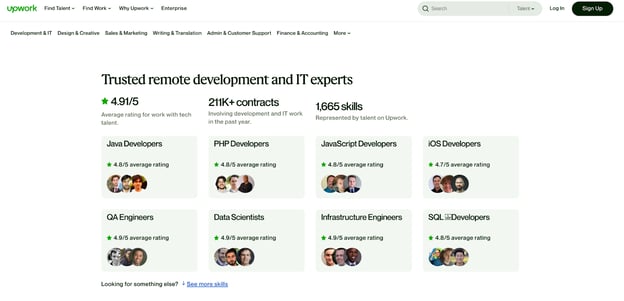 Buyer-oriented marketplaces create opportunities for service providers to find and engage with new clients right when they're in need of service — and to start delivering value to them from the very first touchpoint.
Intermediary-Oriented Marketplace
An intermediary-oriented marketplace is run entirely by a third-party company that serves to connect business buyers and sellers (and turn a profit by doing so).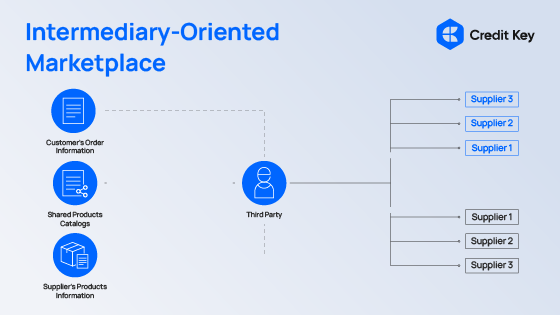 Here, the intermediary facilitates all engagements and purchases within the marketplace — and may also take care of packing, fulfillment, and other such services. Vendors using Amazon Business, for example, also have access to Fulfillment by Amazon for assistance with delivery.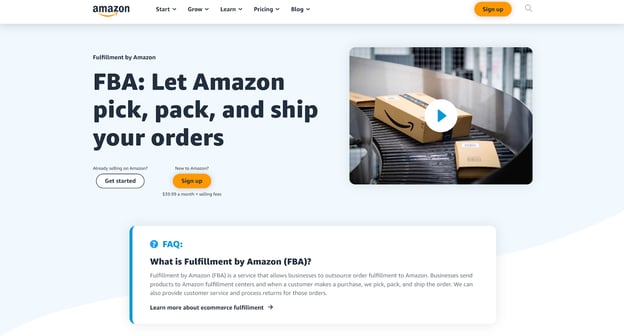 As we'll discuss, intermediary-oriented marketplaces can serve a general B2B audience, or can be focused on specific industries that require a more niche approach to both buying and selling.
Pros and Cons of Selling on a B2B Marketplace
Now, let's take a look at some of the key reasons to consider selling on a B2B marketplace — along with some of the potential pitfalls to watch out for when doing so.
Before we dive in, though, note that these pros and cons vary widely depending on marketplace type and operational approach. Even those with similar approaches will vary in terms of advantages and downsides.
We'll get into these specifics when we discuss individual marketplaces.
For now, let's check out the more overarching pros and cons of selling on B2B marketplaces in the first place.
Pro: Reach New & Relevant Buyers
The main draw of selling on a B2B marketplace is having the ability to reach new and relevant buyers — specifically those with a clear interest in doing business with brands like yours.
For example, it's safe to say that those browsing the products on Mable's marketplace are actively looking for new food products to purchase for their business.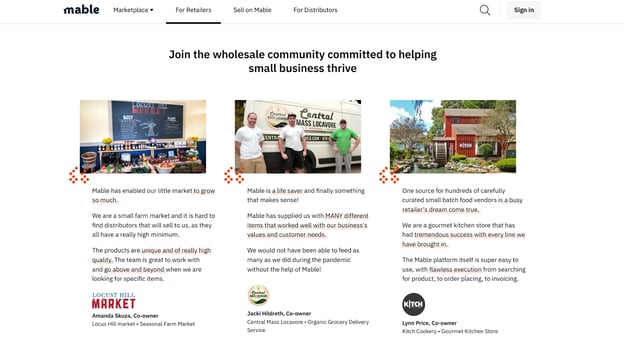 This is even more clear when it comes to buyer-oriented marketplaces, where customers actively post their exact needs with full transparency.
At the very least, these visitors will be much more likely to make a purchase once they find the exact product they're looking for.
(In contrast, the vast majority of those who check out your ecommerce site and social media pages won't be looking to make a purchase during any given visit.)
Simply put:
B2B customers use B2B marketplaces to make B2B purchases.
If you can maximize your visibility and engagement on the right platform, you stand a pretty good chance of generating a massive amount of sales with ease.
Pro: Streamlined Processes
As discussed, marketplace operators often facilitate the many processes involved in B2B exchanges as a part of doing business.
In the first place, modern marketplaces provide a seamless ecommerce experience for their buyers through to the point-of-sale. And, again, many marketplaces offer supplementary services to buyers and sellers alike to further spur the process along.
Niche marketplaces take this a step further by catering to the more specific needs of their audience throughout the purchasing process. Because they understand the nuances of transactions made within their industry, they're better able to tailor their on-site experience accordingly.
For buyers, it means a quicker and easier path to purchase. On the seller's side, it takes a load off the team's current plate — and allows them to focus more on how to best serve their customers.
Pro: Advanced Data Collection
Selling on a marketplace gives your company access to a ton of information — both on your current and your potential customers.
This again goes back to the marketplace operator knowing their stuff: Since they're familiar with how your industry operates, they'll have a crystal clear idea of what data is needed to help you sell more and improve your business.
(This can be a major boon for growing teams still making sense of their data collection strategies.)
Even if you do have a handle on your own customer data, you can collect data on buyers who belong to the network but have yet to engage with your company. You can then further tailor your brand's presence and approach to customers on the marketplace accordingly — improving your chances of converting them from the start.
Pro: Low Barrier to Entry
In contrast to setting up and managing an ecommerce site in full, getting up and running on B2B marketplaces is relatively quick and straightforward.
Yes, it can often involve a fair amount of data entry, page optimization, and general maintenance to get started.
But, modern marketplaces aim to streamline (and even automate) these introductory processes to allow vendors to get selling immediately. And, since the vendor's success is the marketplace's success, the provider will continue to support growth on the channel beyond the team's initial onboarding experiences.
Con: Operational Costs
There are a number of potential costs associated with selling on B2B marketplaces.
These operational costs vary depending on the platform, but generally consist of:
Introductory fees
Membership fees
Per-transaction fees
The use of additional services provided by the marketplace can add even more to these costs. And, if you sell on multiple marketplaces, you'll be responsible for numerous membership and other fees.
This basically means you'll be making less revenue per sale when selling on a marketplace than you would on a fully-owned channel. And, you'll be spending cash on a monthly fee for the platform — regardless of what your sales numbers look like.
Con: Lack of Control
In listing your products and company on a third-party marketplace, you're putting your customer experience and brand image in the hands of said third-party.
The risk here is two-fold:
For one, you need to trust that the marketplace operator is able to keep things running smoothly at all times.
Once you're selling on their platform, any problems they encounter become yours as well. Even the most reputable platforms can be prone to issues that are beyond your control, but that lead to downtime for your business nonetheless.
You also lose the opportunity to deliver your unique branded experience to your marketplace buyers. Though you may be selling your products, the marketplace provider dictates what your customers' on-site experiences and purchasing processes look like — along with your packaging and other such factors.
Con: A Sea of Competition
Remember all the benefits we said you'll experience when selling on B2B marketplaces?
They apply to your competitors, too.
And, unfortunately, the more popular a marketplace becomes, the more competition you'll likely face. Worse yet, the lack of brandability on many marketplaces makes generating recognition and retention on these platforms extra challenging.
Simply put:
You can't expect to make sales on a marketplace with a "if you build it, they will come" attitude.
Rather, you'll need to continually do everything in your power to maximize your visibility on your marketplace of choice — even when standing up against some of the biggest names in your industry.
10 Top B2B Marketplaces to Sell On In 2022
With demand for B2B marketplaces on the rise (on both the buyer's and seller's sides) it's not shocking to see new platforms popping up on a seemingly daily basis.
Of course, not every marketplace you discover will be good for your business. In some cases, investing too heavily into a less-than-stellar marketplace can actually do more harm than good.
With that in mind, let's take a look at ten of the most popular B2B marketplaces around today.
Alibaba is by and large the most popular B2B marketplace on the planet.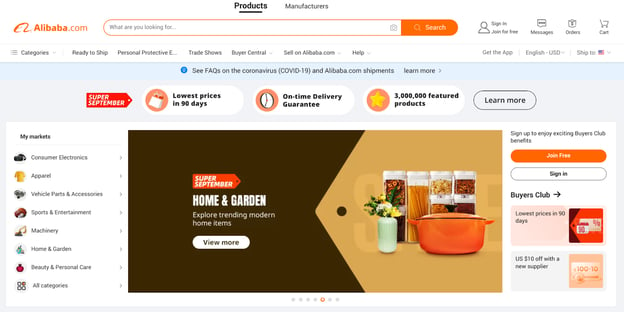 Established in 1999, the China-based ecommerce platform serves a global audience of business buyers and sellers — while also boasting numerous B2C and C2C offshoots, as well. Alibaba boasts an audience of over 40 million business buyers from over 200 countries, who make over 400,000 business inquiries every day.
With Alibaba, vendors will have access to in-depth industry insight and analytics to help them better serve their customers and grow their business. The marketplace also offers Business Verification and Trade Assurance policies guaranteeing the safety of both buyer and seller during every transaction.
While Amazon's success stems from its B2C efforts, 2015 saw the introduction of the company's B2B marketplace.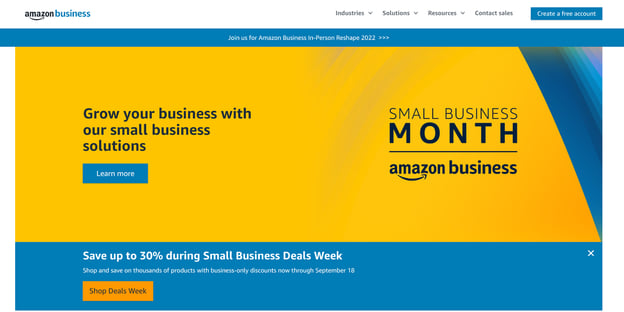 In their own words, Amazon Business brings "everything you love about Amazon, for your business."
The user-friendly dashboard allows you to manage all aspects of your Amazon storefront as you optimize it for conversions. Here, you can upload detailed product information and multimedia content to keep your customers informed and ready to buy. From there, Amazon's dynamic pricing capabilities let you deliver specialized offers to individual clients and audience segments as appropriate.
And, you can also take advantage of Amazon's sponsored ad feature to maximize your visibility on the increasingly popular marketplace.
eWorldTrade is another fast-growing B2B marketplace serving buyers and sellers in over 10,000 markets in nearly 200 countries.

eWorldTrade connects verified buyers and sellers via open storefront, and via RFQs/RFPs. This allows both sides to take a more active role in finding the right buyer or seller for their current needs.
On that note, both B2B buyers and sellers appreciate eWorldTrade's ease-of-use across the board. The platform's streamlined exchange workflows mean vendors spend less time processing transactions — and can spend more time growing their business.
With a new mobile app released earlier this year, we're bound to see eWorldTrade become an even bigger player in the B2B marketplace industry.
Global Sources is an international, multichannel B2B sourcing platform that has been around for over fifty years.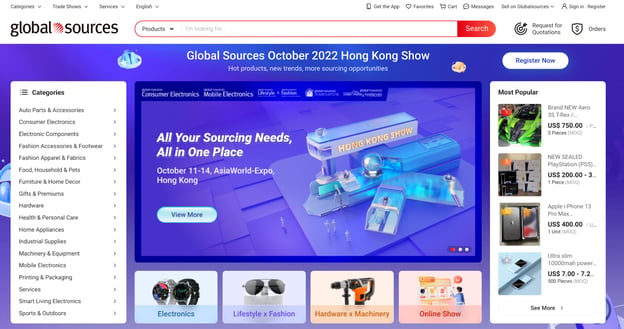 While its online marketplace is a much newer addition, it's a key reason Global Sources continues to be a dominant force in the industry today. As of now, Global Sources serves over 10 million buyers and sellers — including 97 of the top 100 retailers around the world.
Global Sources offers endless amounts of resources and hands-on assistance to B2B sellers looking to ramp up their multichannel initiatives. Buyers also have access to sellers' reputation metrics, allowing those in good standing to gain visibility in front of high-paying, ready-to-convert clientele.
The SeeBiz team prides itself on being "the only wholesale marketplace that builds, optimizes & advertises your online store for you".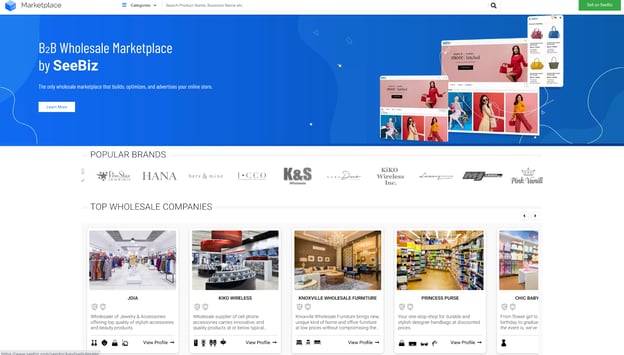 In fact, the company was founded by wholesalers who were dissatisfied with the quality of ecommerce tools available to their team — as recently as 2017.
After registering with SeeBiz, you'll simply hand over the reins as they:
Design your branded, user-friendly storefront
List and promote your products on their marketplace
Run preliminary ads to get your marketing efforts moving
Sellers receive complete access to additional multimedia resources to help them optimize their page even further.
uShip is a B2B marketplace connecting business carriers and shippers the world over.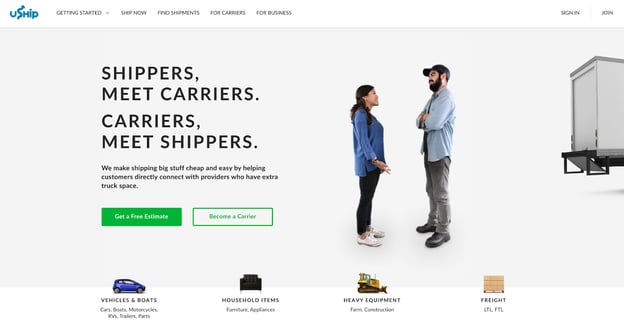 After registering, carriers can start browsing uShip for businesses with shipping needs matching their qualifications and criteria. They can then quickly reach out to qualified partners with a quote for their service or to further discuss their needs.
With new posts every 30 seconds, business carriers will always be able to find new clients and grow their business from their first moments on uShip. And, uShip's automated notifications ensure carriers always know when new, relevant postings are made.
BuildingConnected is a marketplace for owners to find the right contractors and builders for their upcoming projects.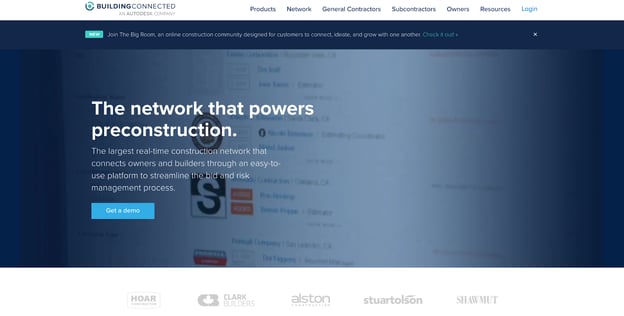 Contractors can use BuildingConnected to:
Deliver proposals to owners
Connect with and hire subcontractors
Assess project risks and commence preconstruction
Contractors can then use BuildingConnected's interface to keep stakeholders apprised of progress and ensure everything is going according to plan.
For builders and contractors, Building Connected is an invaluable tool for discovering new clients in your area and expanding your business.
Mable is a B2B marketplace focused on connecting wholesale food and beverage companies with independent grocery stores throughout the US.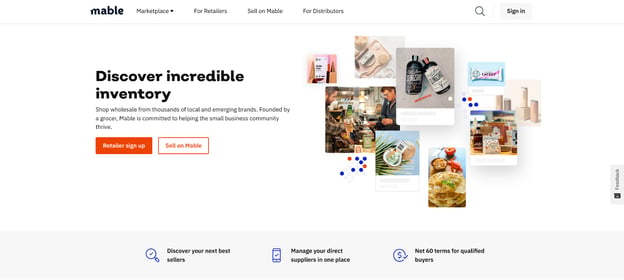 In fact, Mable was started by the owner of a small, seasonal grocery store in Vermont as a way to centralize their wholesale ordering processes. From there, the goal has been to let both wholesalers and retailers grow their business via the online platform.
Mable offers an industry-low 12.5% fee on orders from new relationships established on the platform — and processes orders from your existing buyers absolutely free of charge.
Kitmondo is a B2B marketplace connecting companies looking to buy or sell used machinery online.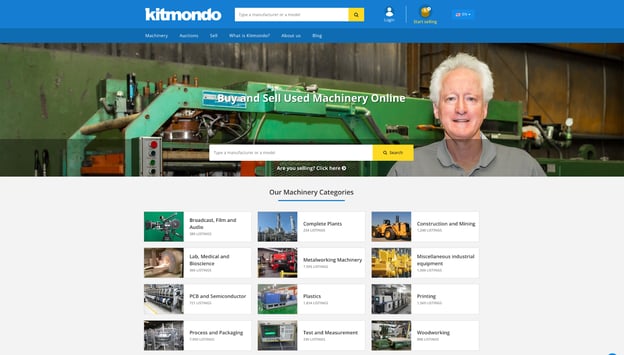 After signing up with Kitmondo, vendors can begin listing their equipment immediately — or enlist the help of a sales agent to optimize their listings. Sales agents also act as intermediaries between all exchanges, ensuring only qualified buyers are passed along to your team.
Like Mable, Kitmondo's team is full of industry experts along with IT and ecommerce specialists. In combining their knowledge and expertise, Kitmondo is able to maximize visibility for equipment sellers, while streamlining exchanges at every touchpoint for all involved parties.
FashionUnited is a B2B marketplace for fashion brands looking to gain visibility and generate new business from retailers all over the world.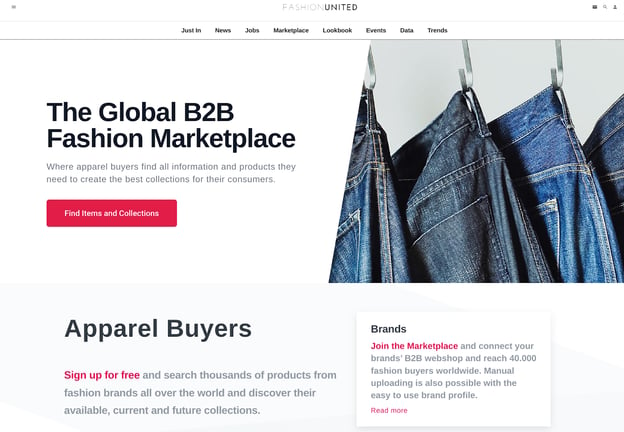 FashionUnited boasts an audience of over 40,000 B2B buyers looking for new fashion products and accessories to sell to their customers. FashionUnited often features top-selling and trending brands in their seasonal content and multimedia — making it even easier to gain some visibility in front of the right buyers.
Another key feature offered by FashionUnited is its in-depth forecasting reports. With this data in hand, you'll always know how much product you need on-hand to keep up with demand — and to keep your buyers satisfied.
---
Top List of B2B Marketplaces:
For the better half of a decade, Matthew has been submerged in the B2B Payments and Accounts Receivable as a Service space. As the Marketing Director of Credit Key, Matthew has an in-depth knowledge of sales and demand generation growth strategies.
View All Articles
Topics from this blog: Wholesale E-commerce B2B Sales