Buy Now, Pay Later financing options are becoming increasingly popular in the B2B world. But, there's still a lot of confusion surrounding the concept as a whole. Here, we'll set the record straight as to what BNPL actually is, and the benefits it can bring to both B2B buyers and sellers.
---
To understand how BNPL came about in the B2B world, we need to look to the B2C realm.
Spearheaded by companies like Klarna, Affirm, and AfterPay, the B2C world saw $285 billion in sales financed by BNPL in 2018. Not surprisingly, this number is expected to grow to a whopping $680 billion by 2025 — a 13.23% CAGR over seven years.
For the B2C consumer, BNPL is a pretty attractive deal. Generally speaking, the above BNPL providers offer:
Lower interest rates than most credit cards for consumer long-term financing
Longer payment periods than credit cards and other options
Easier application processes and higher approval rates than most financing options
For B2C retailers, offering BNPL options to their customers has proven to increase conversion rates, average purchase frequencies, and average order values — all culminating in a major spike in revenues.
It wasn't long before the B2B world began to take note of the value BNPL financing brings to the table.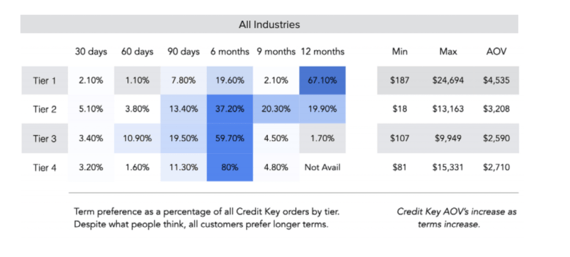 (Over 80% of Small Business Buyers prefer terms of 90 days or longer)
While bona fide BNPL services certainly can be beneficial to both B2B buyers and sellers, the industry is facing a bit of a problem at the moment:
For both buyers and sellers, there's an overall lack of consensus as to what Buy Now, Pay Later financing actually entails. To make matters worse, many financing companies have started offering delayed payment options that aren't authentic BNPL services, despite being labeled as such.
So, before committing to a BNPL provider for your B2B business, you need to know that said provider is prepared to deliver a bona fide BNPL service to your company and your customers.
Here's what you need to ask:
Is there Instant Approval?
Authentic Buy Now, Pay Later services offer near-instant approval. Credit Key, for example, approves financing up to $50,000 instantly, directly at the point of sale.
Ultimately, the goal here is to further streamline the online purchasing process and overall eCommerce experience for the B2B buyer. The faster the approval process, the more likely they'll be to move forward with the purchase at hand.
Unfortunately, many so-called B2B BNPL providers fall short of offering truly instant credit approval — instead taking up to 48 hours to approve financing applications. While this may be quicker than other more traditional financing options (like an in-house net terms program), it definitely falls short of what we'd consider "instant".
Similarly, the application process for many faux-BNPL providers often isn't as quick-and-easy as they claim it is. A quality Buy Now, Pay Later provider will offer an application process that doesn't require excessive information, and takes minimal time and effort to fill out.
(Credit Key's Credit Application at checkout)
Are Payments Made in Installments?
Typically, B2B financing providers don't require buyers to make payments in set installments. Rather, buyers will simply be required to pay off their balance in full by a specific date (Commonly net 30 or 60).
For B2B buyers facing a financial crunch at the moment, this gives them a bit of "wiggle room" but far from the financing terms needs to make a large purchase. Small business buyer choose a term of 90 days or more 80% of the time when making a purchase.
This means that typical B2B financing options fall short for many small business owners and doesn't offer them the flexibility a BNPL solutions should.
Again, though, a number of "BNPL providers" are sticking with the more traditional monthly repayment schedules in lieu of a more open repayment period. Though they may offer longer repayment periods than traditional in-house trade credit financing, these offers lack the flexibility modern B2B buyers are looking for from BNPL financing.
Does It Integrate With Your Website and Checkout Process?
A high-quality Buy Now, Pay Later will integrate seamlessly with a vendor's website and eCommerce checkout process, along with your in-store POS or through your sales representative.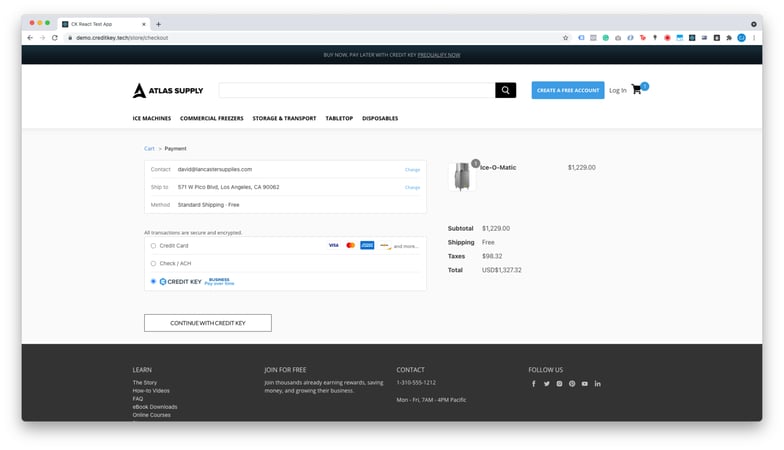 Credit Key allows vendors to place a button directly on their checkout page, allowing buyers to begin the application process as desired. From there, a form will appear within the same window, allowing the buyer to apply for credit without leaving your website. Instantly, they will receive a credit decision and will be able to continue with their purchase.
Some faux BNPL applications may require a few extra steps, such as leaving the vendor's website to fill out a credit application. This isn't a deal-breaker — but it's not ideal, either. A longer application process is less convenient for buyers, and also leaves more chances for things to go wrong.
That said, many top-choice BNPL providers give buyers the option of where and how to fill out their application. Credit Key, for example, allows B2B buyers to apply for credit online, by phone, and even in person.
The Impact of True B2B BNPL Services
To recap, the term Buy Now, Pay Later doesn't just refer to any financing option that allows for repayments at a later date.
Rather, it's a specific term used to describe a specific type of financing option and overall buyer experience.
As we've discussed, an authentic B2B BNPL financing service involves:
Instant credit approval
Flexible repayment policies
A seamless online application process
To be sure, offering financing options of any kind will likely have some type of positive impact on your sales numbers and such.
But offering a true BNPL option is necessary to maximize these benefits.
(For example, offering standard net terms and "pseudo-BNPL" financing has proven to increase AOV by roughly 30%, come of Credit Key's customers have seen a ten-fold increase in AOV since implementing our BNPL services.)
Want to give your customers more buying power and make it easier for them to do business with your company?
So do we.
With Credit Key's BNPL financing option in hand, your customers will always be able to make the purchases they need to keep their business running — and that keep revenues flowing for your business.
For the better half of a decade, Matthew has been submerged in the B2B Payments and Accounts Receivable as a Service space. As the Marketing Director of Credit Key, Matthew has an in-depth knowledge of sales and demand generation growth strategies.
View All Articles
Topics from this blog: B2B Payments E-commerce Featured