How much of your customer's wallet do you own for what you sell? If the answer is not 100%, then there is someone that also has their attention… your competitor. Increasing the share of wallet is a key goal for all B2B companies. Or, at least, it should be.
A higher share of wallet means your customers are spending more and more of their budget with your company. Better yet, it also means they're spending less with your competitors — and becoming more loyal to your brand over time.
The question is:
Are you doing enough to increase your share of wallet in 2022 and beyond?
Share of Wallet vs. Market Share
Real quick, it's important to understand the difference between wallet share and market share.
Market share refers to the percentage of a given market you own, in either sales revenues or customer numbers. Markets can be defined in a variety of ways, such as demographics, geographics, industry, and product type.
Wallet share refers to the amount of money your "average" customer spends on your brand, compared to how much they spend with your competitors, in a specific category.
The main difference to keep in mind for our purposes:
Market share focuses on acquiring new customers within a given market
Wallet share focuses on increasing the value derived from your current customer base
With that in mind, let's take a look at four effective ways for B2B companies to increase their wallet share in the year to come.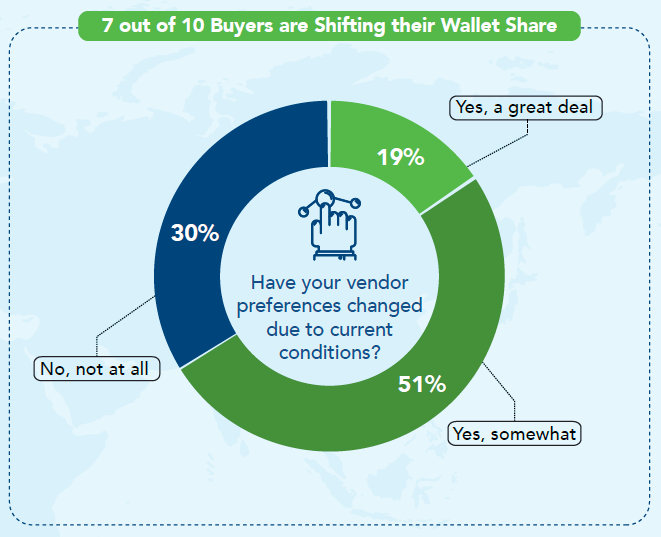 Source
4 Ways Industry Leading B2B Companies Will Increase Their Share of Wallet in 2022
Let's get right to it, shall we?
Perfect Your Approach to Ecommerce
Simply put:
If you can outdo your competition in the ecommerce world, your share of wallet will almost certainly skyrocket.
You can't just dabble in eCommerce, you need to embrace it into your culture. Your customers expect more from you than ever before. They want information at their fingertips. They want an Amazon-like experience, from you. If you're not there yet, well now you have a goal.
A healthy digital presence will allow you to keep your customers engaged and informed — and ultimately moving toward their next purchase. Delivering highly relevant and motivating content on multiple channels will keep your brand top-of-mind at critical moments in your customers' buying journeys.
Ecommerce also allows you to deliver more personalized experiences and recommendations to your current customers. In delivering this laser-focused value, you'll continuously increase the odds of your customer giving you even more of their business in the future. Anticipating the needs of your customer becomes easier and gives you the opportunity to promote other products and services.
Lastly, the convenience offered by ecommerce is inarguable. The overarching self-service nature of ecommerce enables your buyers to browse, learn more, and make purchases on their terms. If it's easiest for them to get exactly what they need from your company, they have no reason to go anywhere else.
Offer Complementary Products and Services
As mentioned above, delivering targeted product recommendations (e.g., upsells, cross-sells, etc.) is essential to increasing wallet share.

Source
Of course, this assumes you actually have these additional products and services to offer. To be sure, if you don't always have something more to offer your customers, you simply won't be able to grab a larger share of their budgets.
To figure out what else you can be offering your customers, think holistically. Think about the "big picture" problems they face, and about how the products or services you currently provide help them overcome these issues. Some organizations go as far as to "ride along" with their customers to understand where they can "do more" for them.
From there, start thinking of additional products and services to offer that will help your customers make further strides toward success. Whether it's practical accessories, more advanced products, VIP services — or something else entirely — your goal is to deliver more, and more relevant, value to your customers.
That way, instead of relying on five different providers to solve different parts of a singular issue, your buyers can simply rely on your brand — and yours alone. Curious how to go about that?
Make a list of everything your customers already use or need. Think in and outside of the box. Once you're done, run through that list and see what you can do that's congruent to your current products and services, and narrow it down to a shortlist. Start asking questions like who does my customer currently get it from? How often do they need that product or service? How can I be competitive if we enter this market as well?
Deliver Excellent Customer Service and Support
Why are Amazon customers more likely to purchase from a brand they don't know through Amazon, rather than a brand they do know. The simple answer is, they trust the platform. They trust the company to stand by a certain level of quality and customer service.
Deliver a great customer experience that rivals the industry standards. Go beyond your customers expectations because they will remember it the next time they decide to make a purchase.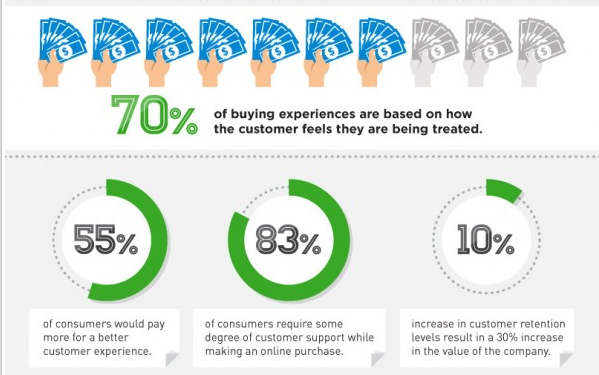 Source
For one, you'll enable your customers to experience success at almost every touchpoint. This, in turn, will instill a sense of trust within your buyers — and will again make them more reliant on your brand, overall.
What's more, you'll also continuously be preparing your customers for the "next step" with your brand, in some way or another. As they become "power users", they'll be more apt to check out the higher-value products or services you have to offer.
In both cases, it means they'll be spending more with your company on a growing number of related items.
Some keys to killer service and support by today's standards include:
Comprehensive customer onboarding
Self-service enablement (via knowledge bases, chatbots, etc.)
Personalized, hands-on technical support upon request
Provide Buyer-Friendly Financing Options
In many cases, increasing wallet share comes down to giving your customers more buying power and better payment flexibility. The easier it is for customers to pay, it is more likely they will be willing to buy.
(After all, if they can't afford to do more business with you, it's just not going to happen…right?)
While trade credit has existed for hundreds of years, the application process is clunky and approvals often don't actually meet the needs of your customers. They need longer terms, larger credit facilities, and better payment flexibility. You need to start looking beyond net terms, and begin offering financing options that cater to the modern B2B buyer's needs.
Enter: Credit Key's B2B Buy Now, Pay Later service.
Here's how it works:
You register your business with Credit Key, listing it as a financing option on your website, product pages, and checkout pages.
Your customer fills out a brief credit application at checkout, which will be processed almost immediately.
The customer completes their purchase as usual.
Within 2 days, Credit Key will pay your company the full amount of the purchase. We assume all of the credit risks.
Your customer will pay off their account to Credit Key over time, up to 12 months.
Now your customer can buy more than just what they can afford in 30 days. You become their favorite vendor because you put the power back in their hands. They can buy what they need when they need it, from whatever channel they choose.
As altruistic as that all may sound, Credit Key merchants choose to do so for many reasons. The ones that matter most are increased customer wallet share, market share, and increased revenue; all while passing us 100% of the risk.
Your customers get more buying power, and you get more business. It's a win-win situation — period.
Blog Author:
Jay Vukel
Account Executive, Credit Key

Jay is an Account Executive at Credit Key, leading Buy Now Pay Later solution specifically designed for the B2B market. Jay has over a decade working with thousands of businesses across varying stages in the supply chain in almost every industry, with special focus in wholesale distribution. Prior to joining Credit Key, Jay spent several years working with and learning from some of the world's foremost Research Analysts at Gartner and putting insight into action with organizations ranging from green-field start-ups to multi-billion dollar enterprises.
Topics from this blog: B2B Payments E-commerce Finance