It's no secret that B2B ecommerce is finally starting to catch up to the trends of the last 20 years in consumer ecommerce. Many B2B firms are investing tens and hundreds of thousands of dollars in developing and deploying shiny, new ecommerce websites.
And yet, so many B2B firms are still relying on older ways of doing business when it comes to the checkout process, such as relying on trade credit or other payment methods that add a large number of steps to the process.
Many of these companies are overlooking a hard-learned rule in B2C ecommerce: Simplicity at checkout is the only guaranteed way to boost conversions. In B2C ecommerce, shoppers don't have the time or attention span for processes that. In fact, nearly 1/3 of shoppers say they abandon carts (i.e. they don't go through checkout) when the checkout process is too long or complicated. The same is true for B2B buyers, despite the fact that B2B merchants often needing more information to complete a sale.
According to the Baymard Institute, an ecommerce research firm, the average checkout process has an average of 5.42 steps, and nearly 15 form fields. However, the firm has also found that the fewer number of fields required during checkout, the better the site performs. In fact, they found that the optimal number of fields is seven.
‍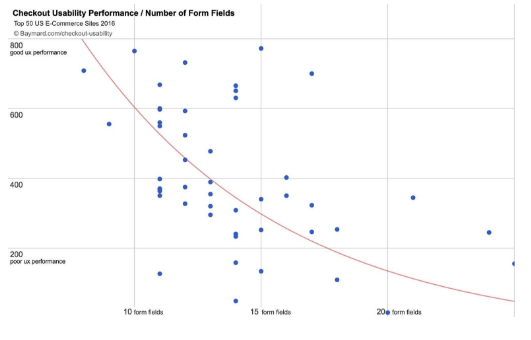 So, where are all these extra form fields coming from? Essentially, they represent highly inefficient processes. That is, customers are asked to enter the same information multiple times, like when a firm requests billing address for both account registration and credit card payment.
Because B2B is inherently more complex than B2C, it's understandable to need to ask for additional information. When B2B firms who are using third parties to offer online credit, though, those parties often add an additional 15-25 fields to the checkout process! Kind of defeats the purpose of offering credit terms, right?
The bottom line is this: The harder it is to check out, the more friction that process creates, the lower your conversion rate is going to be. Why invest so much money into an ecommerce operation if your checkout process is too long to manage? Another way to look at it is this: What impact would it have on your business if you could boost your conversion rate by as little as 1 percent? It's similar to the age-old question: Would you rather have 1 percent of 100 or 100 percent of nothing?
Here at Credit Key, we've worked hard to make our process as intuitive and hassle-free as possible. That's why we only ask for four additional pieces of information in addition to what the merchant already needs. Moreover, we integrate with the merchant's shopping cart software, enabling us to grab all necessary info from those forms and eliminating the need for duplicate data entry.
Want to see what frictionless instant credit can do for your business? Contact us for a demo and we'll show you!