It's no secret that B2B companies are finally starting to catch up to B2C firms in terms of using e-commerce to reach new customers, uncover untapped revenue opportunities, and provide a superior customer experience. In order to design a satisfying customer experience, it's essential that firms define the path a prospect takes in order to become a customer. This is called the "customer journey," and it's become a common and fruitful exercises firms go through to improve how they engage, interact, and sell to customers.
Not to be confused with a sales funnel, which tends to be more linear, the customer journey more closely describes a wider set of experiences the customer may go through and how the brand fits into those experiences. For example, a customer journey map might explore a typical day in the life of a customer, problems s/he experience in the day, how s/he may be feeling in those particular moments, and how the brand might engage to solve those problems. Unlike the sales funnel, which has very specific actions a company takes at key stages throughout the purchasing process, customer journeys tend to be far more customer-centric.
Here's an example from market research firm McKinsey of a customer journey map that combines aspects of the sales funnel along with other moments a customer may pass through.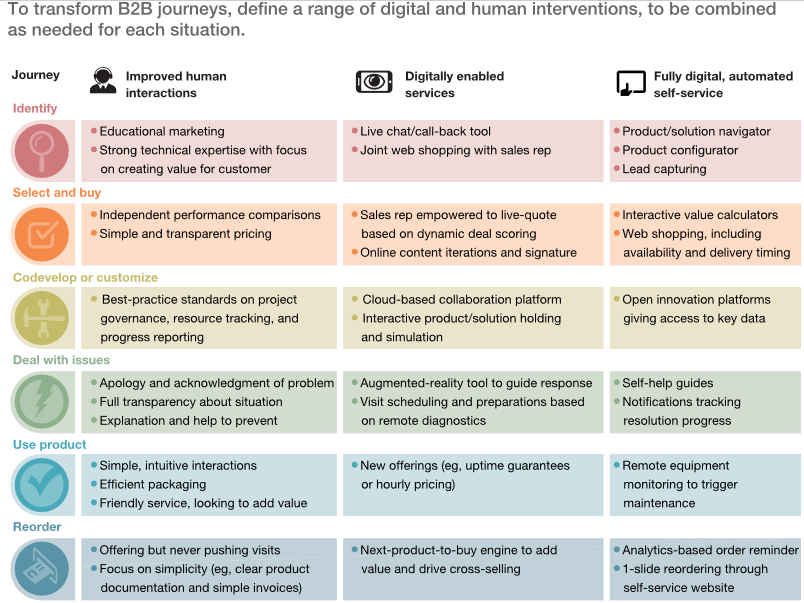 As you can see, it's not only about attracting, educating, and converting the customer. It also delves into issues the customer may experience and how the firm responds or mitigates those issues. It also addresses different types of interactions: Human, digitally-enabled, and digital self-service. Also note how with each need a customer has, there is a solution for each type of interaction, some technological, some organizational, and some human.
So, where does a technology like instant credit and flexible payment methods fit into all this? Taking the above model, there are a few different ways Credit Key can be used to enhance the customer journey.
Improved Human Interaction
If your company prides itself on delivering higher level of service, then there are few things that are more service-oriented than offering the ability to obtain credit for an order in a matter of seconds. And in highly competitive industries, simply being able to offer this level of service can be a true differentiator and make all interactions with customers more fluid. But it can go beyond that. When sales reps or customer service agents are working to solve a customer problem, it's important to know what tools are available to reach a solution.
Digitally Enabled Services
One thing that's awesome about Credit Key is that it's not only a technology that can be used on a B2B merchant's website. It can also be used by its sales reps and in its call center. So, no matter how a customer chooses to engage with a merchant, Credit Key makes getting approved for a line of credit quick and painless, across each of a merchant's engagement channel.
Digital Self-Service
This is really our bread and butter. Credit Key is designed to integrate directly into an online shopping cart. Customers can apply for and get approved for a line of credit online, and complete their purchases. They are empowered to choose their own payment terms (based on parameters pre-approved by the merchant). And they can do all these things without any human interaction, if that's what they desire. The entire process is designed to be quick, easy, and seamless.

If you're interested in learning more about how Credit Key can help your business improve the customer journey, contact us. We're happy to show you the impact that it can have on both customer satisfaction and your bottom line.