Throughout the B2B world, it's fairly common for businesses to offer buyer-friendly payment terms to their customers.
For buyers, payment terms ease the financial burden that comes with most business expenses. With these terms in place, the customer gains immediate access to a given product or service, while being able to pay off its cost over time.
This makes the vendor's products or services more accessible to the buyer — which, in turn, increases the chances of their making a purchase.
That said, not all payment terms are created equal — and using the wrong one in a certain scenario can cause major problems for B2B vendors like yourself.
Here, we'll be comparing one of the most common types of B2B payment terms with a newly-emerging option in the business-to-business realm.
Namely, we're talking net terms vs. buy now, pay later.
Net Terms: A Common Solution — But Not Always the Best Option
Many — if not most — B2B vendors offer net terms as a payment option for their customers.
When net terms are offered, it means the buyer will have a certain amount of time to pay back their balance before it's considered past due. Vendors typically offer net terms of net 30, net 60, or net 90 — meaning they have that many days after finalizing a purchase to pay back the amount owed.
Again, this eases the financial burden for the customer — and ideally brings them closer to making a purchase.
The main problem with net terms, though, is that in easing the financial burden for their customers, the vendor actually takes on the burden, themselves. If, for example, you offer net 60 terms to your customers, it will take you sixty days to recoup the revenues earned from any sale you make. In other words, that's sixty days that you were unable to reinvest your earnings into your business.
The time it takes from sale to payment is called Days Sales Outstanding (DSO) as seen below: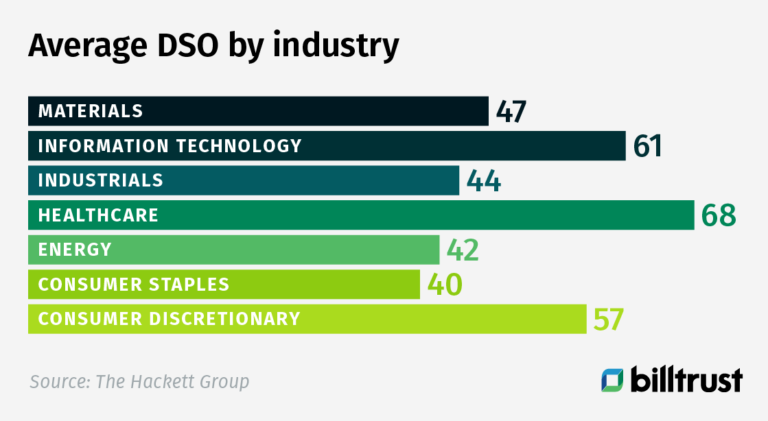 SOURCE
That said, the financial burden vendors experience by offering net terms isn't exactly all that crushing. Because they're usually used for common repeat orders — like meal ingredients for restaurants, or sheet metal for fabricators — it's pretty easy for vendors to anticipate cash flow accurately even when using net terms.
Really, it becomes the natural way of doing business: Regular customers make routine purchases, and just as routinely pay their balances off over time.
Of course, routine is the key word here.
Unfortunately, offering net terms isn't the best financing option when it comes to larger purchases that are well outside a buyer's normal price range. If, for example, a restaurant needs a new fryer, or the fabrication shop needs a new metal shearer, making the purchase via net terms can actually cause problems on both sides of the equation.
For one, the vendor will take on a much larger financial burden than they're used to. This can cause major cash flow issues throughout the net term period — even if the customer manages to pay back the balance in full and on time.
And, well...that's a big "if". Truth be told, if a buyer is having trouble paying for the larger purchase upfront, they're probably going to need more than 30, 60, or even 90 days to pay it off in full.
Simply put:
While offering net terms for routine purchases can be beneficial to both parties, allowing your buyers to finance larger purchases through this method can end up causing more harm than good.
Buy Now, Pay Later: A Long-Term Alternative to Net Terms
Of course, your customers will need to make larger purchases from time to time.
(After all, our hypothetical restaurant can't just operate without replacing their fryer, just as our fabrication shop can't operate without a new metal shearer.)
And, when it comes down to it, most small business owners know they'll need more than 30, 60, or 90 days to pay back their balance in full. In fact, our own data shows that 80% of small businesses look for terms in excess of 90 days.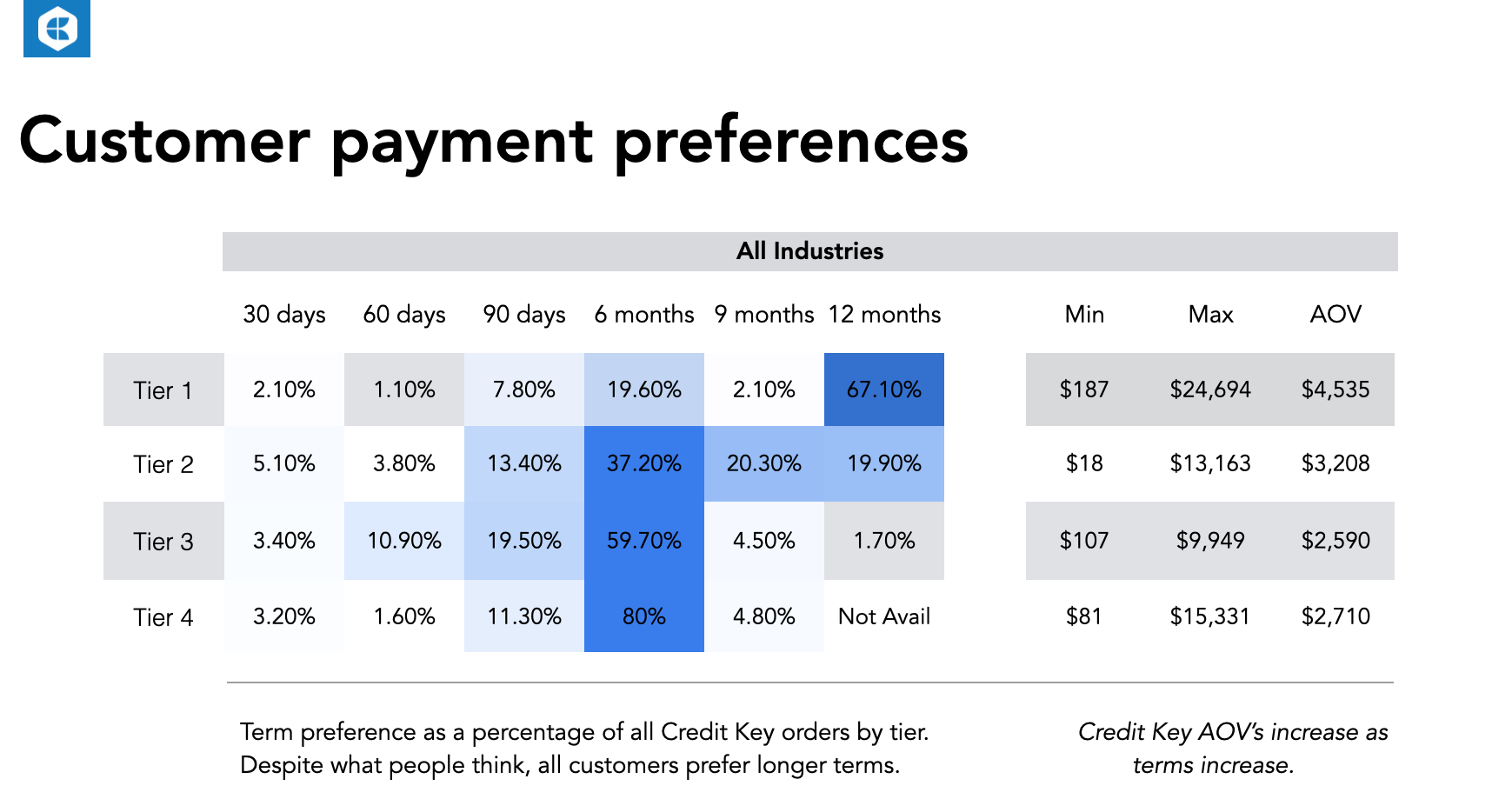 That said, offering longer-term financing — that is, Buy Now, Pay Later B2B financing — is all but essential for today's B2B vendors.
For one, Buy Now, Pay Later put more buying power in the hands of your customers. The more affordable the financing option, the more likely they'll be to go through with a larger-than-average purchase.
Secondly, Buy Now, Pay Later financing actually occurs through a third-party company (like Credit Key). Once a customer finances a purchase, the financier pays the vendor in full, while the customer pays the financier back in monthly installments.
(In other words, you as the vendor don't take on any of the financial burden — a stark contrast to offering net terms. In turn, you can immediately reinvest the additional revenue back into your business.)
With this more long-term option, our restaurant owner can immediately buy a new fryer, and our fabrication shop can get their new shearer up and running — with neither team risking any capital upfront.
As for the vendor, offering Buy Now, Pay Later options can do wonders for their sales numbers and overall revenues.
After partnering with Credit Key:
Olam Coffee enjoyed a 250% increase in conversion rates
Voltage Restaurant Supply increased their AOV by 10x for credit card purchases
Ryonet saw a 371% increase in AOV and a 29% increase in purchase frequency
With Credit Key's Buy Now, Pay Later solution, you can offer your customers lines of credit of up to $50,000, along with terms of up to 12 months.

Ready to get started? Schedule a demo today!