Offering customer-friendly financing options is a staple of highly-successful B2B companies.
And it's not hard to understand why.
Firstly, allowing your customers to pay off their purchases over time gives them more buying power. This can lead to increased average order value and purchase frequency in many cases — and can also decrease the amount of cart abandonment your business experiences.
(In fact, 48% of B2B buyers did not complete a purchase for their companies because their preferred payment method wasn't an option.)
Secondly, offering friendly financing terms can potentially allow your brand to stand out from your competitors. With B2B customer expectations changing so rapidly in our post-Covid world, this is one area where going the traditional route in this regard may not be enough to keep your customers around.
Incidentally, the vast majority of B2B vendors are still relying heavily on these traditional financing strategies for the time being.
Source
While business credit cards aren't going anywhere anytime soon, one traditional B2B financing option has somewhat of a questionable future.
We're talking, of course, about net terms.
What are Traditional Net Terms
Net terms is a common financing method in the B2B world, in which the vendor allows the buyer to pay off their purchases over a defined period of time.
Typically, vendors will extend net terms out to 30, 60, or 90 days. This simply means the buyer will have either 30, 60, or 90 days to pay off their bill in full. Depending on the individual terms, the buyer may be required to pay penalties should their account remain delinquent past the due date.
(On the other hand, some companies offer discounts to those who pay off their bill well before the due date. These terms are often written as, for example, "5/10, Net 30" — meaning the buyer has 30 days to pay, but will receive a 5% discount on their total purchase if they pay in full within 10 days.)
To be sure, offering net terms is a tried-and-true way for B2B companies to increase sales and do more business. As shown above, nearly 70% of brands provide some form of net terms to their customers — so it must still work, at least to some degree.
But, again:
This may not be the case for much longer.
The Trending Problem with Net Terms
As much as the B2B world has embraced net terms in years past, recent trends show that this go-to financing option may no longer be enough for the modern B2B buyer.
Today, B2B buyers are looking to spread payments out past the traditional 90 days offered by net terms. In fact, our research shows that roughly 80% of B2B transactions (As seen on the table below) involve requests for lengthier payment periods.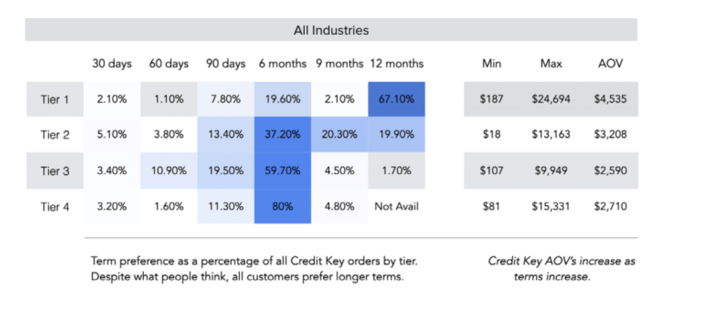 Unfortunately, there's a pretty big problem with granting this request:
While many vendors are in a comfortable enough spot to extend payments out one, two, or three months, offering longer periods can wreak havoc on their overall cash flow. This not only hinders the company's ability to grow — but can actually put the business in jeopardy, overall.
Simply put:
Most small B2B businesses just aren't in a position to offer more than 90-day net terms.
Another problem we're seeing is that many B2B buyers have learned how to game the net terms system, in a way.
It works like this:
The buyer agrees to net 30 terms with the vendor (who, again, may only be able to afford to offer 30-day terms).
These terms often include a 30-day, interest-free grace period. The buyer takes full advantage of this offer, bringing them to 60 days without having paid anything to the vendor.
The buyer then pays off their balance using a credit card. On their end, this gives them another 30 days to pay off the balance. The vendor, despite finally getting paid, typically incurs a transaction fee through the credit card provider.
In effect, the vendor gave the buyer a 90-day loan and lost money on the deal. This…obviously isn't good for business.
With the above in mind, it's worth pondering whether net terms is actually preferred by today's B2B buyers, or whether it's simply the easiest financing option to exploit.
In any case, there's a much better option emerging in the B2B world that benefits both buyer and vendor — and that doesn't require either party to put themselves at financial risk.
Buy Now, Pay Later: A Better Alternative to Net Terms
Okay, so:
We know that the modern B2B buyer is typically looking to spread payments out over more than ninety days. And, we now know that offering net terms can actually be a bit too customer-friendly, sometimes to the point of exploitation.
(And, again: Even when the agreement plays out as planned, the vendor is still sacrificing cash flow throughout the repayment period.)
Of course, not offering some kind of financing option to your customers is out of the question. As we said at the beginning, providing customer-friendly payment options is vital to increasing AOV and purchase frequency — and to keeping cart abandonment to a minimum.
The solution:
Buy Now, Pay Later, Credit Key's Instant B2B Point-of-Sale financing payment option.
Here's how it works:
At the point-of-sale, the customer sees Credit Key as a payment option.
After selecting Credit Key, they're taken through a short and user-friendly approval process.
They select the payment plan that works best for them, then finalize their purchase.
After you've processed your order, you'll be reimbursed the full amount by Credit Key within (48 hours).
The buyer pays Credit Key back over time. At this point, Credit Key assumes full responsibility for recovering payment from the customer.
The buyer gets the manageable payment terms they need, while the vendor gets paid in full with minimal delay.
(It's no wonder the Buy Now, Pay Later trend is spreading like wildfire throughout the B2B world, is it?)
For teams that are struggling to stay cash flow positive while still offering buyer-friendly financing terms to their customers, Buy Now, Pay Later services are quite literally just what you're looking for.
For the better half of a decade, Matthew has been submerged in the B2B Payments and Accounts Receivable as a Service space. As the Marketing Director of Credit Key, Matthew has an in-depth knowledge of sales and demand generation growth strategies.
View All Articles
Topics from this blog: B2B Payments Finance