One of the top questions businesses ask when we first meet is, "Why do I need your service, especially when I have something that's good enough?" It's actually one of our favorite questions because it gives us the opportunity to share our vision for instant approval lines of credit for B2B merchants. Additionally, it gives us the chance to demonstrate why the traditional trade credit model isn't sustainable in today's digitally-driven industry.
So, how exactly do we respond to questions like this? Let's take a look.
Your trade credit process is a resource drain
It's great to be in a position where you can extend credit to your customers. But many B2B merchants only have one or two people working in their accounting department, and their days are probably filled with more essential accounting duties. Processing B2B credit applications is time consuming, often with a lot of back and forth between the merchant and the customer. Add in any follow-up with customers about late payments or other related matters, and you're already looking at a significant amount of work. What's more, if the merchant is trying to grow, this is a function that is not easy to scale, especially without technology.
That's where Credit Key comes in. For businesses looking to scale, there's really no easier way to offer more credit to more customers without having to add resources.
Your trade credit process is not user-friendly
In order for a customer to apply for trade credit, they often have to either download or be emailed a form. If it's not an editable PDF, they then have to print it, fill it in, and either scan it so it can be emailed or faxed back to the merchant along with any supporting documentation. FAXED BACK TO THE MERCHANT? What year is this?
‍
Wouldn't it be great if the customer could fill out a short, online form and get approved in just a few seconds, all during the checkout process on your website? If that sounds appealing, that's exactly what Credit Key offers.
Your cash flow is constantly tight
A business might be profitable, but when its cash flow isn't fluid it can't take advantage of key opportunities. While that might seem fine in the short-term, lack of cash can hamper real long-term growth. And extending trade credit can exacerbate any cash flow issues a business is experiencing. In fact, a business that is cash strapped likely has trouble extending credit to its customers; after all, it needs to buy raw materials or products for resell in order to fill orders, which is nearly impossible without having cash on hand or going into debt.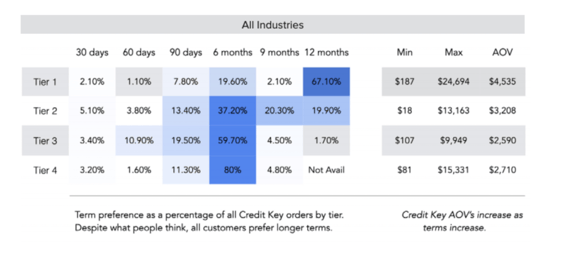 With Credit Key, cash flow problems are essentially eliminated, at least as far as extending credit is concerned. Businesses using Credit Key don't have to actually extend the credit themselves, but they get paid by the customer almost as fast as they complete a purchase. So, when big orders come in, the merchant generally has enough cash on hand to ensure it can be fulfilled in a timely manner.
Summary
In a nutshell, below mentioned are some of the key reasons to switch to Credit Key
Your trade credit process is a resource drain
Your trade credit process is not user-friendly
Your cash flow is constantly tight
If any of these scenarios sound familiar, it's time to get the only instant credit approval system that seamlessly makes your business more profitable. Contact us for a demo.
‍