There are a number of e-commerce metrics B2B merchants should be tracking on a regular basis, but one of the most important ones is their conversion rate. For those not familiar with this term, your conversion rate is simply the percentage of web site visitors who become paying customers. For example, let's say you have 100 website visitors, and out of them, two become customers. This would be a two percent conversion rate.
That said, what counts as a conversion may vary depending on the type of business and industry you're in. For example, for industries where there is a long sales cycle, conversions are more closely associated with leads; i.e. when someone comes to your site and expresses interest in your products, signs up for an email newsletter, etc. It's important to understand your own firm's sales cycle and measure conversion rates for each phase a customer passes through.
Tracking conversion rates can help you identify snags in your business's online shopping experience and optimize that experience. In the world of B2B e-commerce, even small tweaks can have a big impact, ultimately improving your top-line revenue. Let's take a closer look at this vital metric and how you can improve it.
Benchmarking Conversion Rates
Calculating your conversion rate is often the first step, but it's also important to benchmark that against your industry. After all, businesses in different categories often have different average conversion rates. For example, average global conversion rates for retail e-commerce sites was 2.42 percent, according to market research site Smart Insights. But that figure is even a bit misleading, as can be seen when benchmarking conversion rates by industry, as Marketing Sherpa has done: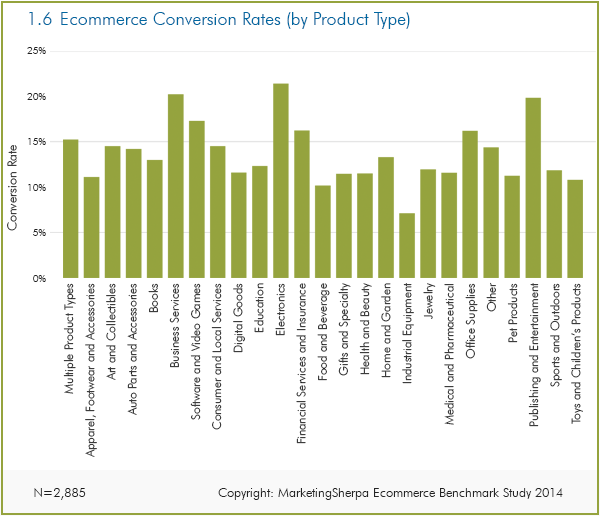 For B2B firms, conversion rates tend to be higher than their B2C counterparts because the purchasing intent tends to be higher. It can be challenging to find publicly-available data that pertains specifically to your business, and it may take buying some private research to get an accurate baseline. But once you do benchmark your industry, you'll be able to better set realistic goals for what your site's conversion rate should be.
How to Analyze Your Conversion Rate
While it's good to measure and track your site's overall conversion rate, it's likely not enough information to help you really optimize the online experience. To do that, it's essential to segment and analyze traffic to develop a more complete picture of how people are using your site and where they seem to be hitting a wall in terms of completing purchases.
There are a number ways to segment traffic, and it's important to look at what's happening in each of these areas to sharpen your understanding of what people are doing on your site. Some segments include:
Product type or category: Are there certain products that convert at higher rates than others?
Traffic source: Do visitors from a specific source (LinkedIn, company newsletter, etc.) convert better?
Device: How do conversion rates compare between desktop, mobile, and tablet?
Location: Do your customers from one geographic location convert better than others?
These are just a few ways you can segment traffic to analyze conversion rates, and it's important to find segments that make sense for your business.
Cart Abandonment
In addition to comparing conversion rates between different segments, it's also important to understand where site visitors are failing to complete a transaction. Typically referred to as cart abandonment, it's common for potential customers to place items in their virtual shopping cart but not go all the way through the purchase process. There are a number of reasons this happens, including (but not limited to):
Shipping costs are too high or not transparent
Buyer needs to get approval from someone in their company before completing the purchase
Buyer wants to save the item for later (for whatever reason)
Buyer was only researching products
The buyer gets distracted and forgets to complete the purchase
Preferred payment method not offered
Abandoned carts have a direct impact on your conversion rates, and many times, identifying and fixing issues with your checkout process can dramatically improve conversion rates.
A/B Test Everything
The best way to find ways to improve your conversion rate is to test. In the industry, this is known as A/B testing, where a site offers two different versions of a page to customers to see which one results in more sales. The cool thing about e-commerce is that it's fairly easy to test, well, everything. From page titles, layouts, product images, purchase button placement and more, pretty much every aspect of your page can be tested. The best approach is a continuous test and refine pages until they meet or exceed your conversion rate goal.

One thing that we've seen with our customers is that offering flexible payment methods can dramatically improve conversion rates. If you'd like to get more information about how Credit Key can help achieve this, contact us. We're happy to show you the impact we can have on your revenue.